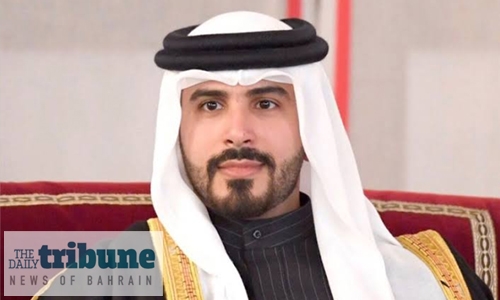 HH Shaikh Mohammed bin Salman attends the Kingdom Match Race Bahrain 2019
His Highness Shaikh Mohammed bin Salman bin Hamad Al Khalifa has attended the Kingdom Match Race Bahrain 2019, at Bahrain Sailing Club, Al Jazayr Beach, Zallaq. Upon his arrival, His Highness was received by the President of the Bahrain Maritime Sports Federation, Shaikh Khalifa bin Abdullah Al Khalifa, the Vice-President Numan Al Hassan, and a number of the federation's Board members.
HH Shaikh Mohammed observed the competition, and was briefed on the performance of the Bahraini teams and the other participating countries. HH Shaikh Mohammed highlighted that Bahrain's hosting of this important tournament is a testimony of the Kingdom's advancement in maritime sports, adding that the country's ability to organise various sporting events continues to be strengthened.
In this regard, HH Shaikh Mohamed noted Bahrain's natural qualities and modern facilities for maritime sports. Before departing, His Highness received a commemoration gift on behalf of the Bahrain Maritime Sports Federation, who thanked him for his interest and support to Bahrain's sports sector.
The Kingdom Match Race Bahrain 2019 runs from 11 to 15 December, with the first day seeing the registration and weighting process, the initial practices, the official briefings and the meetings with the arbiters. As much as 28 races could take place every day from 12 December until the finals on the 15th.