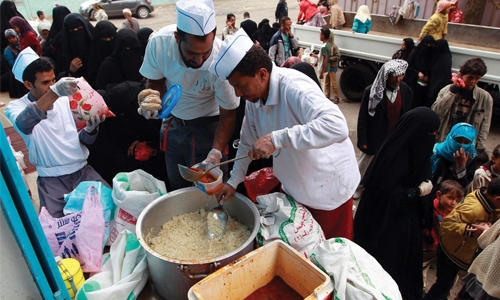 Bahrain attends Yemen aid meet
Geneva : Permanent delegation of the Kingdom of Bahrain to Geneva, headed by Permanent Representative Ambassador Dr. Yousef Abdul Karim Bucheeri, and other international organisations took part in the Yemen Humanitarian Response Plan 2017 meeting organised by the Office for Coordination of Humanitarian Affairs.
Ambassador Bucheeri spoke on behalf of the Gulf Cooperation Council in the meeting that falls within the framework of the plan of action of the United Nations and its partners working in the field of emergency relief with the aim of providing aid to the brotherly people of Yemen.
In his statement, the Permanent Representative valued the work being done by the Office of Coordination of Humanitarian Affairs and its incessant endeavours to respond to humanitarian crises across the world in general and in Yemen in particular.
In this context, he lauded the distinguished efforts that have been made in preparing the Humanitarian Response Plan 2017 amid the appalling conditions witnessed by the Yemeni people who have endured and still endure extreme difficulties as a consequence of the Houthi forces coup aided by ousted Ali Salah.
He said the GCC States agree to the remarks made by the Humanitarian Affairs and Emergency Relief Coordinator, Stephen O'Brien, on Yemen's deteriorated humanitarian conditions, looming difficulties and the many challenges being faced by the providers of humanitarian aid on the Yemeni territories.
He welcomed the efforts of the Kingdom of Saudi Arabia and other stakeholders who are exchanging information with humanitarian aid agencies to surmount the difficulties being faced in Yemen, affirming that the GCC countries form the biggest source of humanitarian aid for the Republic of Yemen through Operation Restoring Hope.
He commended in particular the efforts of the King Salman Center for Relief and Humanitarian Works which assumes a great role along with other GCC Humanitarian organizations to meet the need of the brotherly Yemenis.
Dr. Bucheeri also affirmed the GCC keenness on making sure that all the humanitarian aids ensured by the GCC states reach the needy in Yemen in light of the Houthis' imposed restriction on humanitarian action in a flagrant violation of international conventions which regard them responsible for the facilitation of the access of basic humanitarian aids.
In conclusion, the Permanent Representative reiterated the need for a political solution, based on the GCC Initiative, outcomes of the Yemeni Comprehensive Dialogue and UN Security Council Resolution 2216, calling on the international community to support the GCC states in the pioneering role they play in rebuilding Yemen.