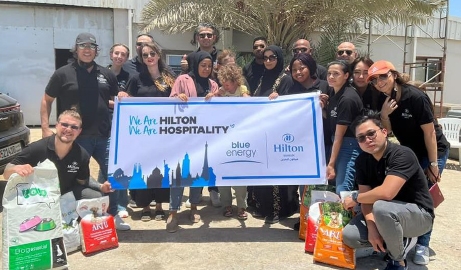 Hilton Bahrain team visits Bahrain Animal Rescue Center
TDT | Manama
The Daily Tribune – www.newsofbahrain.com
As Hilton Bahrain gears up for the opening, the property expresses its continuous commitment to drive positive impact on the environment and its local community.
The team paid a visit to Bahrain's Animal Rescue Centre, formerly known as "Tony the Dogfather" to shine light on this non-profit organisation, dedicated to caring for rescued dogs and cats.
The Centre shelters approximately 320 dogs and 150 cats in a rented land in Hamala.
This organisation, which has been rescuing animals for over 10 years, solely relies on donations and volunteers to keep the shelter running. Its main goal is to care, rehabilitate and ultimately find loving homes through pet adoption – both locally and abroad.
"As we begin to approach the countdown of our opening, I am very pleased to announce that Hilton Bahrain is a pet-friendly hotel. We continue to improve and redefine travel experiences and we understand the need for pet lovers, such as I, to have a trusted destination that will provide fantastic experiences not just for guests but for their pets too," Tamer Farouk, General Manager of Hilton Bahrain, said.
"Caring for our furry friends is an integral part of our identity and so is caring for our environment and local community. This recent activity with Bahrain Animal Rescue Centre is just the beginning of many lined-up projects to support local organisations dedicated to sheltering these rescued animals. We salute their efforts and we will definitely continue our support to this worthy cause."