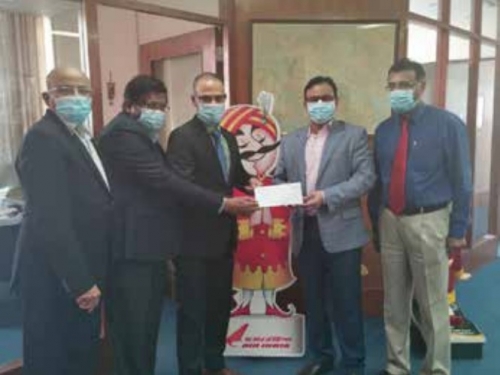 ICRF hands over cheque to Air India in sponsorship initiative
TDT | Manama
The Indian Community Relief Fund (ICRF) has provided financial support towards flight fares for individuals who cannot afford to purchase tickets to return to India amidst the coronavirus (COVID-19) crisis. ICRF officials handed over a cheque to Air India country manager responsible for Bahrain, Jordan and Egypt Ashish Kumar.
ICRF has so far supported over 45 individuals to travel back to India through the "Vande Bharat Mission" and other chartered flights. ICRF chairman Aruldas Thomas expressed special thanks to the generous sponsors who have contributed to this cause.
Anyone in need to travel back to India and cannot afford the flight tickets are asked to get in touch with the ICRF, which is ready to assist deserving parties' travel to any destinations in India through "Vande Bharat".