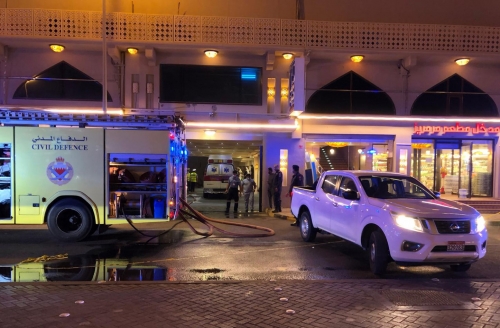 Deadly restaurant blaze kills a woman, injures two in Sanabis
TDT | Manama
A deadly blaze broke out at a restaurant in Sanabis claimed the life of a 44-year-old woman and injured two others. The fire erupted as workers were carrying out maintenance works at one of the ceremony halls adjacent to the restaurant, eyewitnesses at the scene told Tribune. Welding works were ongoing at the time of the accident to renovate the facilities of the hall.
The woman, reportedly, an African national, died of asphyxia -suffocation to inhalation of smoke- as she tried to take cover from the fire on the first floor. Police who reached the scene immediately rescued many others who were trapped in the restaurant.
Eyewitnesses confirmed to Tribune that none of them suffered any injuries. Ministry of Interior tweeted that nine fire vehicles, as well as 40 police officers, were sent to the scene to put out the fire. The tweet confirmed that nine people were saved, including two with injuries. All others rescued from the scene are safe.