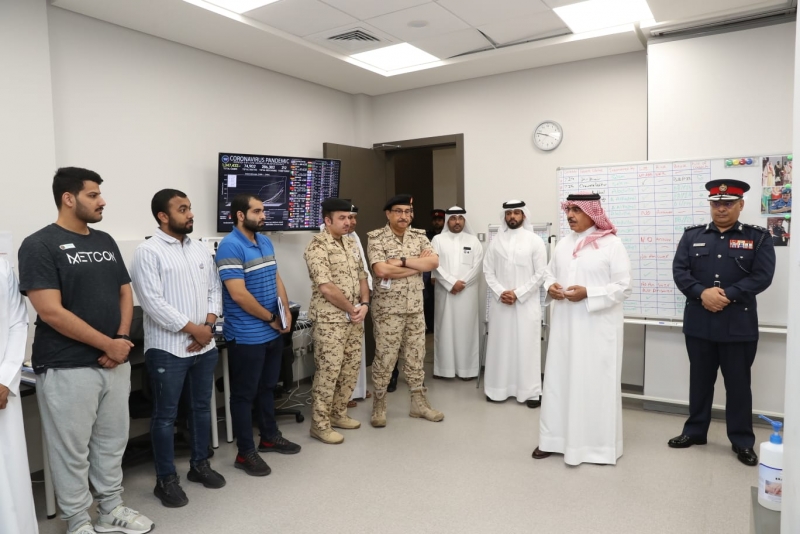 Interior Minister hails efforts of contact-tracing team
TDT | Manama
Interior Minister General Shaikh Rashid bin Abdullah Al Khalifa hailed yesterday the directives of His Majesty King Hamad bin Isa Al Khalifa to increase the national precautionary measures against the coronavirus (COVID-19) pandemic.
General Shaikh Rashid praised the follow-up of His Royal Highness the Prime Minister Prince Khalifa bin Salman Al Khalifa and the support of His Royal Highness Prince Salman bin Hamad Al Khalifa, Crown Prince, Deputy Supreme Commander and First Deputy Prime Minister, in this regard.
In line with the directives of HRH the Crown Prince to support and develop the contact-tracing team, the Interior Minister visited the team at the operations room of the National Taskforce for Combatting the Coronavirus, located at the Crown Prince Centre for Training and Medical Research.
The Interior Minister was accompanied by Public Security Chief Major General Tariq Al Hassan and was welcomed upon arrival by the Royal Medical Services Commander.
During the visit, General Shaikh Rashid was briefed on the team's procedures and measures to ensure the health and safety of citizens and residents. He highly valued the dedication of HRH the Crown Prince to ensure coordination and performance integration amongst all concerned authorities within the framework of the national team.
The Interior Minister was also informed about procedures and measures. He expressed his thanks and appreciation to the members of the contact-tracing team for their distinguished round-the-clock efforts to contribute to limiting the spread of the coronavirus and overcoming the crisis.
He also hailed the efforts of the General Directorate of Criminal Investigation and Forensic Science to set up the team, in cooperation with concerned authorities. The Interior Minister wished everyone success in carrying out their duties.