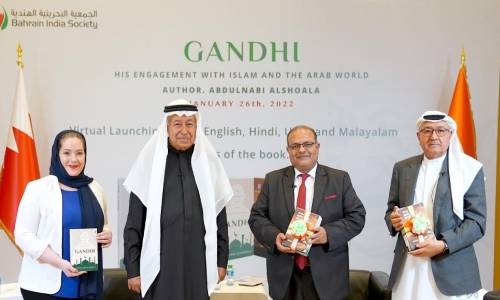 Book on Gandhi's engagement with Arab World launched in four languages
TDT | Manama
The Daily Tribune – www.newsofbahrain.com
" Gandhi: His Engagement with Islam and the Arab World", a landmark Arabic-language book, authored by Abdulnabi Alshoala, focusing on the great Mahatma Gandhi and his impact on the Arab world, was launched yesterday in four translated versions –
English, Hindi, Malayalam and Urdu – during a virtual event hosted via Zoom at the Isa Cultural Centre in Manama.
The book, now in its third printing in Arabic, was launched in the presence of a sizeable audience, numbering several hundred people, tuned into the Zoom cast from Bahrain, India, Egypt and around the GCC Countries. Piyush Srivastava, the Indian Ambassador to Bahrain and Abdul Rahman Juma, the chairman of the Bahrain India Society
-- who were both present in person – and Dr Shobhana Radhakrishna, a noted, internationally-renowned Gandhi scholar, who appeared through a Zoom link, joined Alshoala at the launch.
The event, moderated by Sara Al Buraik, a prominent Bahrain TV news anchor, was organized by the Bahrain India Society, which was founded by Alshoala.
The launch of the book coincides with the anniversary of India's Republic Day. Srivastava congratulated Alshoala on a "… brilliant and well-researched work on the life, thoughts, intellectual heritage and ideals of Gandhiji."
"It is only befitting," Srivastava continued, "that the translated book has been launched in four languages today on the occasion of the 73rd Republic Day of India.
It is also a tribute to the author, who is a distinguished intellectual, Gandhian scholar and a torch-bearer for strong bonds of friendship and partnership between India and the Kingdom of Bahrain."
Juma, the Bahrain India Society chairman, said the society was "… honoured to be a platform for the multi-lingual launch of such a work of scholarly relevance as Alshoala's book."
Alshoala said the book intended to both express his gratitude to India for the hospitality he received while a student and, also, to strengthen ties between India and Middle Eastern countries.
A former Minister of Labour and Cabinet Minister of State, Alshoala is currently the chairman of Dar Albilad for Journalism, Publishing and Distribution and the founding chairman, and advisor to the board, of Alfanar Investment Holding. Alshoala also served on the Board of Directors of the Bahrain Chamber of Commerce and Industry.
Coming in French soon Alshoala announced that negotiations are underway to have the book published in the French language soon.