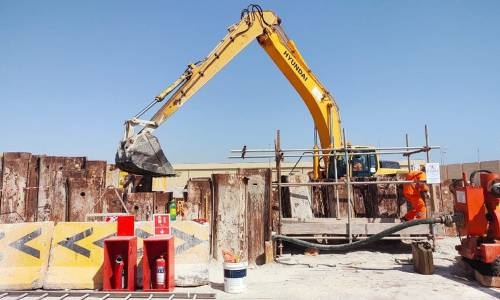 Main sewage water carrier project underway in Hidd Industrial Area
TDT | Manama
The Daily Tribune – www.newsofbahrain.com
Work has started to construct the main sewage water carrier in Hidd Industrial Area. The project includes the construction of a main sewage conveyor line with a total length of 3.3 kilometres, of which 1.1 km will be implemented using the Open Cut method.
The remaining 2.3 kms will be excavation using Micro Tunneling machines, and three pumping stations will be re-established.
The project will contribute to reducing the cost of operation and maintenance of the old pumping stations. It will also raise the capacity of the sewage network, from 2,300 cubic metres per day to approximately 24,000 cubic metres per day, to serve the current and future industrial facilities in the region, he added.
The final wastewater will be carried out at the Muharraq treatment plant to make the most of its capacity. The project falls within the national strategic plan set by the ministry for the wastewater sector as a basis for planning, developing and expanding networks and treatment systems in Bahrain with the rapid urban development, with the aim of achieving sustainable development for this sector and providing the best services to all regions.