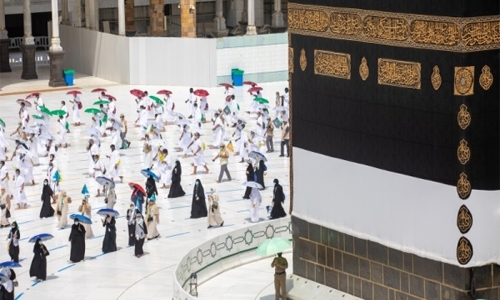 Bahrain Justice and Islamic Affairs Ministry announces Umrah permit procedures
TDT | Manama
The Daily Tribune – www.newsofbahrain.com
The Ministry of Justice, Islamic Affairs and Endowments has announced the procedure for Umrah (minor Hajj) and prayer permits in the Great Mosque of Makkah and visiting the Prophet's Mosque.
The procedures are as per the directives issued by the Saudi Arabia Ministry of Hajj and Umrah.
The ministry called on licensed Umrah operators and all citizens and residents to ensure registration on Muqeem App and use Tawakkalna and Eatmarna apps to show their health status (vaccinated) ahead of receiving the Umrah permits.
Opening an account on Eatmarna is possible only after updating the visitor's immune health status on the Tawakkalna application.
Vaccination is a must for Visa "Only those who had taken two doses of coronavirus vaccine or completed 14 days after taking the first dose of the vaccine or recovered after infection are entitled to obtain an Umrah visa," the Saudi Ministry of Hajj and Umrah said.
Saudi Ministry had stated that they would only allow pilgrims who have been vaccinated against COVID-19 or have recovered from the infection.
Umrah visas will only be issued to fully vaccinated individuals.
Saudi Health authorities have approved vaccines for all above 12 years of age.
Reports say, foreign pilgrims must be vaccinated fully against COVID-19 with Pfizer/BioNTech: Comirnaty, Oxford/AstraZeneca: Vaxzevria, Johnson & Johnson: Ad26.COV2.S or Moderna: mRNA-1273 Pilgrims vaccinated with Sinopharm: BBIBP-CorV and Sinovac: CoronaVac will also be allowed entry, provided they have taken a booster shot of either Pfizer, Moderna, AstraZeneca or Johnson & Johnson.
Saudi also requires pilgrims to be in excellent health conditions and adhere to protocols for ensuring the safety of pilgrims coming from abroad. SR1,000 fine Entering masjids without a permit will attract a fine of SR1,000. Authorities also will not allow unauthorised vehicles in the central region around Makkah.
Worshippers are also required to arrive on time to avoid losing their time slots. The instructions coincide with the safe Umrah season for 1443 AH for Gulf Cooperation Council (GCC) citizens.
10 million pilgrims According to the Saudi Ministry of Hajj and Umrah, 10 million pilgrims have successfully performed Umrah since Oct. 4, 2020, following the launch of its "safe Umrah" procedures and the gradual return of pilgrims to the Two Holy Mosques.
The ministry also revealed issuing more than 12,000 visas since the Kingdom began to welcome pilgrims from other countries on Aug. 10 this year.
Officials aim to reach a capacity of 3.5 million pilgrims, visitors and worshippers a month.
Abdulfattah Mashat, the deputy minister of Hajj and Umrah, said the capacity is 70,000 pilgrims a day currently.
International visitors should register their vaccination status on an online platform 72 hours before travelling to the Kingdom.