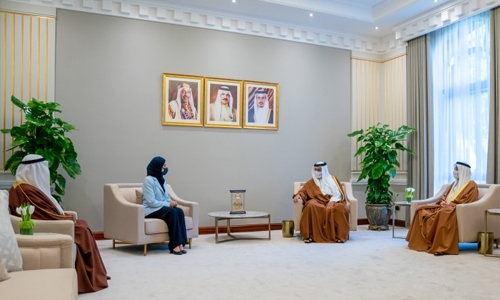 Turn ambitions into reality and challenges into achievements: HRH Prince Salman
TDT | Manama
The Daily Tribune – www.newsofbahrain.com
His Royal Highness Prince Salman bin Hamad Al Khalifa yesterday called on citizens in the Kingdom to turn their ambitions into reality and challenges into achievements for the comprehensive development of the Kingdom.
"Building the present and future of the country is a trust and responsibility that everyone in Team Bahrain bears," said the Crown Prince and Prime Minister.
"Bahraini citizens could be sure of the commitment of Team Bahrain in ensuring the success of these goals," The Crown Prince and Prime Minister said, as he reviewed the initiatives and programmes outlined in the 2019-2011 Government Priority Framework.
Bahrain team, HRH said, comprises the Executive and Legislative Authorities, the public and private sectors, and citizens and residents. The statement came as HRH Prince Salman held a meeting with Fawzia bint Abdullah Zainal, the Speaker of the Council of Representatives, and Ali bin Saleh Al Saleh, the Chairman of the Shura Council at Gudaibiya Palace.
Prince Salman stressed the meeting on the need to build on the national achievements with a renewed determination to achieve the goals set by the Economic Vision 2030.
"This calls for continued commitment to implementing the government programmes and all initiatives as outlined in the Government Priority Frameworks and pushing them towards broader horizons of creativity and innovations to take it to the next level," said HRH Prince Salman. "One of the most important pillars of the development process is the realisation of the aspirations of the citizens and prosperity of the country, which is a continuous process," Prince Salman reminded.
The quality of planning and mastering the implementation would accelerate development in all areas, pointed out the Crown Prince and Prime Minister.
His Royal Highness also extended thanks and appreciation to the Speaker, Chairman and members of the Shura Council and Council of Representatives for cooperating with the Executive Authority to achieve comprehensive development led by His Majesty King Hamad bin Isa Al Khalifa.
"This has further strengthened the legislative progress of the Kingdom that is both wide-ranging and benefits all citizens," said the Crown Prince and Prime Minister.
The Speaker and Shura Council Chairman expressed their gratitude to HRH Crown Prince for backing the collaboration between the Executive and Legislative Authorities to continue the development drive.
Senior officials were present during the meeting.