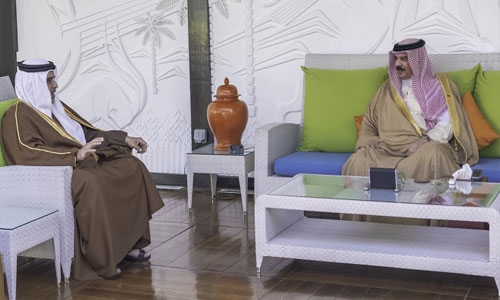 No one will be left behind!
TDT | Manama
The Daily Tribune – www.newsofbahrain.com
All efforts are being exerted to secure the release of all Bahraini citizens detained in Qatar so no one will be left behind!
Following the return home of three Bahrainis, including world bodybuilding champion Sami Al Haddad, on Saturday, hopes are high that all remaining citizens who were arrested by Qatari authorities will return to the Kingdom soon.
Yesterday, His Majesty King Hamad bin Isa Al Khalifa commended the tremendous efforts exerted by the government, led by His Royal Highness Prince Salman bin Hamad Al Khalifa, the Crown Prince and Prime Minister, for the successful release of the three citizens.
HM the King was reassured about the safe return home of all Bahraini sailors detained in Qatar, stressing the importance of ensuring their rights.
Bahraini authorities, as directed earlier by the Cabinet, will take all necessary procedures to facilitate their return to the Kingdom.
This came as HM the King and HRH the Crown Prince and Prime Minister met at Al Safriya Palace yesterday.
Al Haddad, his friend Mohammed Al Dossari and fisherman Habib Abbas, were arrested on Thursday by Qatari coast and border security while fishing on Bahrain's "territorial waters".
They thanked the royal leadership for the attention and care that they had received which contributed to their release.
They also thanked the Interior Ministry, headed by General Shaikh Rashid bin Abdullah Al Khalifa, and the Foreign Ministry, headed by Abdullatif Al Zayani, for their efforts and the measures that contributed to their safe return.
On the other hand, Bahrain has thanked Oman for the efforts it exerted leading to the release of the Bahraini citizens.
Bahrain, along with Saudi Arabia, the UAE and Egypt, ended a three-year rift with Qatar on January 5 following a GCC summit in the historic city of Al Ula, in Saudi Arabia, formally restoring diplomatic relations and opening their land, sea and air borders.
Bahrain has opened its airspace to Qatar last January 11.
Also yesterday, HM the King and HRH Crown Prince and Prime Minister reviewed a number of local issues aimed at serving the kingdom's development march.
HM the King lauded the development and service projects witnessed by the kingdom across various sectors to achieve more progress and prosperity for the nation and the citizens.
On the national efforts to combat the coronavirus (COVID-19) pandemic, HM King Hamad bin Isa Al Khalifa lauded the high turnout of the citizens and foreign residents to take the COVID-19 vaccine, reflecting their awareness and recognition of its importance in achieving the safety of everyone.
HM the King commended the tireless efforts and humanitarian contributions of the frontline responders and all those in charge of the national immunisation campaign.
The kingdom has made major strides in limiting the spread of the virus due largely to the cooperation and solidarity of everyone.