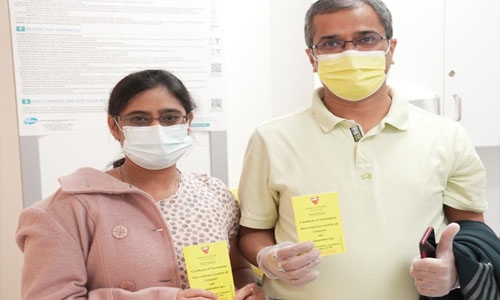 Bahrain has third-highest rate of vaccinations per 100 individuals in the world
TDT | Manama
The Daily Tribune – www.newsofbahrain.com
Bahrain has the third-highest rate of vaccinations per 100 individuals in the world, reportedly 8.28, according to Bloomberg Covid-19 Vaccine Tracker.
Israel came in the first place, vaccinating 24.24 per 100 individuals and UAE in second place with 15.5.
Bahrain also became the first country in the world to allow COVID-19 vaccine appointments via a mobile app BeAware.
All citizens and foreign residents are able to schedule their free vaccination via that smartphone application, which was launched at the beginning of the pandemic as the country's COVID-19 contact tracing offering.
Those who cannot, or would prefer not to use the app can alternatively book their appointment through the Bahraini Ministry of Health's website healthalert.gov.bh.
After a month since Bahrain started a national vaccination campaign against the coronavirus (COVID-19), more than 141,560 individuals have so far received at least one dose from one of 27 health centres, King Hamad University Hospital and mobile vaccination units.
The initiative was rolled out under the directives of His Royal Highness Prince Salman bin Hamad Al Khalifa, the Crown Prince, Deputy Supreme Commander and Prime Minister to ensure the safety of all from the virus.
On 17 December, Bahrain – which has been praised for its advances in utilising technology to control the spread of COVID-19 – began to inoculate its total population of an estimated 1.5 million people around 712,000 of them are Bahrainis and 679,000 expatriates.
It aims at vaccinating 5,000 people per day, to be maximised to 10,000.
It offers Bahrainis and expatriates of age 18 years and above free of charge vaccination either the Pfizer-BioNTech or China's Sinopharm for emergency use.
Bahrain was among the first countries to have requested the Pfizer-BioNTech vaccine as part of its plan to tackle the virus.
Although the Health Ministry had announced on Saturday that a January shipment of the Pfizer-BioNTech vaccine to the Kingdom will not arrive on time, it assured that the second doses of the jab already scheduled will not be affected.
Mobile vaccination service Bahrain has also launched mobile units providing home vaccinations against COVID-19 for the elderly and people with special needs.
The service is the first of its kind in the region and is offered by medical teams who make home visits to the people who cannot make it to the vaccination centres and give them the jabs.
The Health Ministry said it compile needs of the elderly and people with special needs who have registered on its website to receive the vaccine.
It added that it has devised a mechanism for conducting mobile units across the Kingdom and coordinating with the applicants' families to notify them of the vaccination teams' visit appointments.