Bahrain condemn French teacher beheading
Manama

BNA/AP
Bahrain condemned the gruesome beheading of a history teacher in a Paris suburb recently. For the second time in three weeks, terror struck France, as their government works on a bill to address militants who authorities claim are creating a parallel society outside the values of the French Republic. The suspected attacker was shot and killed by police. President Emmanuel Macron urged the nation to stand united against terrorism. The French anti-terrorism prosecutor opened an investigation for murder with a suspected terrorist motive. Four people, one a minor, were detained hours later, the office of anti-terror prosecutor Jean-Francois Ricard said without elaborating. Police typically fan out to find family and friends of potential suspects in terror cases.
Macron visited the school where the teacher worked in the town of Conflans-Saint-Honorine and met with staff after the slaying.
"One of our compatriots was murdered today because he taught... the freedom of expression, the freedom to believe or not believe," Macron said.He said the attack shouldn't divide France because that's what the militants want. "We must stand all together as citizens," he said.
A police official said the suspect, armed with a knife and an airsoft gun - which fires plastic pellets - was shot dead about 600 metres from where the male teacher was killed after he failed to respond to orders to put down his arms, and acted in a threatening manner.
The teacher had received threats after opening a discussion "for a debate" about the caricatures about 10 days ago, the police official said. The parent of a student had filed a complaint against the teacher, another police official said, adding that the suspected killer did not have a child at the school.
An ID card was found at the scene but police were verifying the identity, the police official said. French media reported that the suspect was an 18-year-old Chechen, born in Moscow. However this information could not be immediately confirmed.
France has seen occasional violence involving its Chechen community in recent months, in the Dijon region, the Mediterranean city of Nice, and the western town of Saint-Dizier, believed linked to local criminal activity.
It was not known what link, if any; the attacker might have with the teacher or whether he had accomplices. Police were fanning out on searches of homes and potential family and friends of the man in question, the police official said.
It was the second terrorism-related incident since the opening of an on-going trial for the January 2015 newsroom massacre at the satirical newspaper Charlie Hebdo.
Meanwhile Bahrain Foreign Minister Dr Abdullatif bin Rashid Al Zayani affirmed the kingdom's sympathy with the French people and extended its support to France in its efforts to combat terrorism, extremism and violence of all forms and for the measures it takes to preserve citizens and residents' security and safety.
Main image courtesy : AP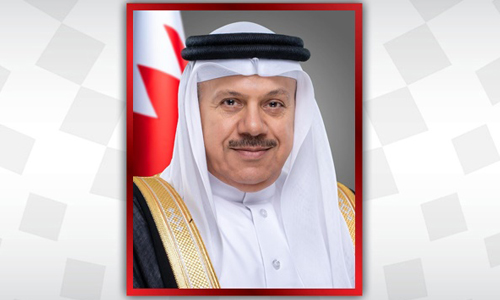 Bahrain Foreign Minister Dr Abdullatif bin Rashid Al Zayani