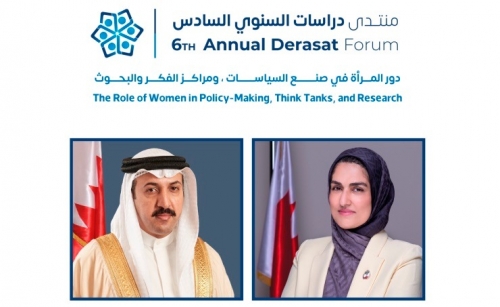 Derasat forum on women's role in policy making and research
TDT | Manama
The Daily Tribune – www.newsofbahrain.com
The Bahrain Center for Strategic, International and Energy Studies (Derasat), in association with the Supreme Council for Women (SCW), has announced that the 6th Annual Derasat Forum themed "The Role of Women in Policy-Making, Think Tanks, and Research" will be held on June 14-15.
The forum will discuss the advanced role of women in research and think thanks, their initiatives and deliverables, and challenges they face. It will also highlight current and future initiatives to support the role of women in think tanks.
SCW Secretary General Hala Al Ansari noted the efforts of Derasat, chaired by Dr Shaikh Abdullah bin Ahmed Al Khalifa, in research work and engaging with pressing topics and issues. Al Ansari wished success for this year's forum which focuses on the role of women as contributors to policy-making and research centres.
She thanked Derasat for providing this platform to showcase the contributions of women in this domain and other disciplines and highlight Bahrain's advanced status in gender balance and equity.
Dr Shaikh Abdullah bin Ahmed Al Khalifa, Board of Trustees Chairman of Derasat, said that theme of the upcoming forum is consistent with the center's vision to enhance sustainable development and constructive cooperation with national, regional and international partners.