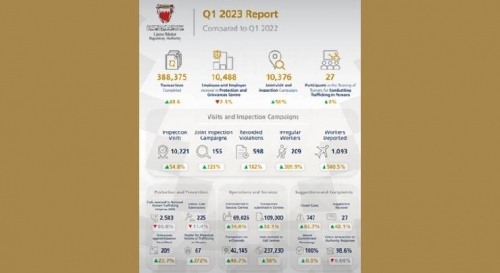 LMRA completes 388,375 transactions in Q1 2023
TDT | Manama
The Daily Tribune – www.newsofbahrain.com
The Labour Market Regulatory Authority (LMRA) has reported a 48.6% increase in the number of transactions completed during the first quarter of 2023, reaching 388,375 transactions in total.
Nouf Abdulrahman Jamsheer, LMRA Chief Executive Officer, said that its Call Centres received 237,200 calls, an increase of 58%, pointing out that the growth in the number of transactions achieved reflects the continuing increase in commercial activities supported by the economic recovery plan adopted by the Kingdom.
Jamsheer highlighted the LMRA Enforcement and Protection sector's success in improving operational efficiency by intensifying daily inspection campaigns in cooperation with relevant government agencies, especially the Interior Ministry.
The figures show an increase in the number of inspection visits carried out by the authority during the first quarter of this year by 55% compared to the same period of 2022, to exceed 10,000 inspection visits.
There were 48 joint inspection campaigns in the first quarter of 2022, compared to 155 campaigns in the first quarter of this year. The expansion of inspection campaigns aims to verify the extent of the establishments' commitment to regulations and laws, and to address irregular workers, in a way that preserves competitiveness, justice and stability of the labour market.
Records show a number of 598 violations in the first quarter of the year, a growth of 182%, while the number of violations recorded for the use of workers without a work permit reached 983 violations.
The efforts also resulted in an increase in the total number of violations leading to deportation from 182 workers in the first three months of 2022 to about 1,093 workers in the same period this year.
Jamsheer noted that Bahrain's Economic Vision 2030 aims to achieve the main objective of the Authority's work by reforming and developing the labour market in accordance with the principles of sustainability, competitiveness, and justice.