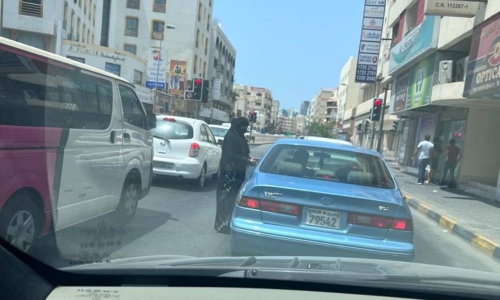 'Begging more of a social problem than a crime'
TDT | Manama
The Daily Tribune – www.newsofbahrain.com
Reported by Zahra Ayaz
A huge number of female beggars in Bahrain target individuals by narrating tragic stories, particularly those who stop at traffic lights, to get the sympathy of housewives and extort money from them.
After the authorities tightened their hold on beggars, many of them switched to this new method of donning a 'black abaya' to avoid being caught red-handed on the streets. Many beggars become angry and aggressively object if given a modest amount of money or refuse to donate at all.
However, recently, the authorities have also discovered scores of expatriate women beggars who wear abayas and pose as locals to look genuine.
According to sources, the majority of these women mostly operate on the streets of Gudaibiya, Hoora, and Manama, and some are even spotted carrying kids. Last year, Muharraq police arrested more than 70 beggars and deported them after pursuing legal action, as the majority of them were expatriates.
The Daily Tribune has documented several similar situations and spoke with many victims who claimed begging should not be considered a crime but rather a social problem that raises many problems.
Meanwhile, leading physiologist Dr. Anne Mostafa said, "The assumption from a psychological standpoint would be that no one would want to beg, and no one wants to be destitute. There could be psychological factors; perhaps the individual's mental health and cognitive ability play a major role."
Personal issues
Volunteer and owner of 'Box Forward' Lina Stahl warned that even though many families come from respectable backgrounds, you may never be aware of their issues. "But I also think that many beggars do exploit their unfortunate circumstances," Stahl said.
"Many needy people are also there who are unaware of the resources available to them by charities and shelters set up to support them."