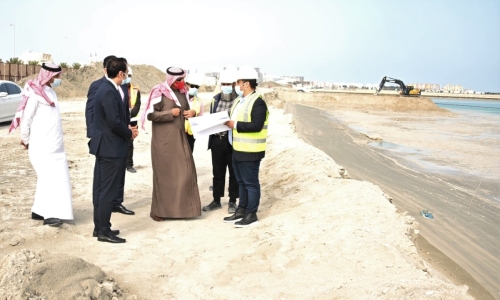 Bahrain Bay Beach, Qalali Coast Waterfront will boost tourism: Minister AlZayani
TDT | Manama
The Daily Tribune – www.newsofbahrain.com
The Bahrain Bay Beach and the Qalali Coast Waterfront Projects will help attract more international visitors and tourists to Bahrain, said the Minister of Industry, Commerce and Tourism.
Zayed bin Rashid Al Zayani said: "These two projects will constitute a new addition to promoting domestic tourism in Bahrain, in addition to attracting more visitors and tourists from outside Bahrain."
The minister said this as reviewed the work progress of the 170,000sqm Bahrain Bay Beach and 100,000 sqm Qalali Coast Waterfront Project.
Dr Nasser Ali Qaidi, the CEO of the Bahrain Tourism and Exhibitions Authority, top officials and officials representing the consultancy supervising the implementation of the project accompanied the minister.
Bahrain Bay Beach Project, located north of the Bahrain Bay area and inaugurated in November 2022, stretches from the northern coast of Bahrain Bay to the south of Al Saya.
The project enjoys a coastline of over 600 meters shared with over five plots, an area designated for service facilities and 425 public parking lots.
The Qalali Coast Waterfront Project, located on the street leading to the Amwaj Islands area in Muharraq Governorate, extends over 2 km.
The minister said the projects are part of the tourism strategy for 2022-2026, which aims to diversify the Kingdom's economic portfolio.