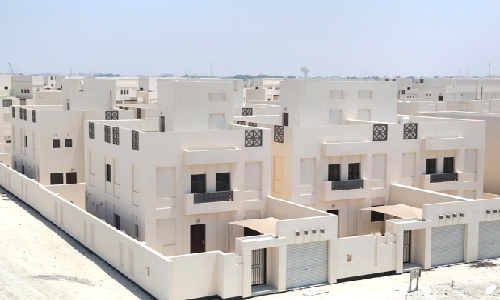 Mazaya helped 9,629 people realise their housing dreams
TDT | Manama
The Daily Tribune – www.newsofbahrain.com
The Social housing programme Mazaya has turned out a big hit among citizens of Bahrain, with the programme helping 9,629 people till last month from 2014 to buy their dream homes.
The Ministry of Housing also reported a 50% increase in the beneficiaries of the Mazaya programme in 2021 from a year ago, with the government spending 80 million dinars so far in support.
"This increase reflects the increased confidence of the people in the programme, which also reflects its success," said the ministry.
The programme assists those on the social housing waiting list to get financed by a financial institution and obtain governmental financial support to purchase a housing unit.
As per the programme, a beneficiary should pay only 25% of monthly income as a mortgage instalment where the government will pay the remaining amount per month.
In this regard, the government had spent more than 80.8 million dinars in support from 2014 to November 2021.
The ministry said it hopes that the number of those benefitting from the programme will increase by the year-end.
The ministry also released new statistics showing the buying pattern of the beneficiaries of the Mazaya Social housing programme.
70% bought housing units
Accordingly, 70% of the beneficiaries opted for housing units and 30% apartments.
The figures are from a study conducted by the ministry from 2018 to 2021.
The ministry also confirmed that banks in the Kingdom are now showing great interest to finance the Mazaya programme with exclusive offers.
Banks spent 1.07 billion to finance the purchases through the programme since the launch of the "Mazaya" programme and until November 2021.
The programme, the ministry said, also achieved its desired economic goals by bringing business to the real estate market and related sectors, including construction, contraction, retail and banking.
Purchasing habits greatly differ
The ministry said 59% of the beneficiaries in the southern governorate bought residential units, while 41% opted for apartments.
In the Muharraq Governorate, 75% chose villas and 25% apartments.
Ninety-seven per cent of the beneficiaries in the Capital went for residential units and the remaining apartments.
In the Northern Governorate, 79% bought villas and 21% apartments.
3,118 beneficiaries
Compared to the prior year, the programme this year doubled the number of beneficiaries to 3,118 from 1,691 in the same month a year ago.
The "Mazaya" programme received 1,012 applications during the 2009-2013 period and 435 requests during the 2004 to 2008 period.
As per the programmes, a beneficiary could purchase any property, given its price doesn't exceed BD120,000.
Banks could only lend 90,000 BHD – in the case of buying a 120,000 worth property.
Mazaya programme beneficiaries should purchase only recently constructed units and reject under-construction units.