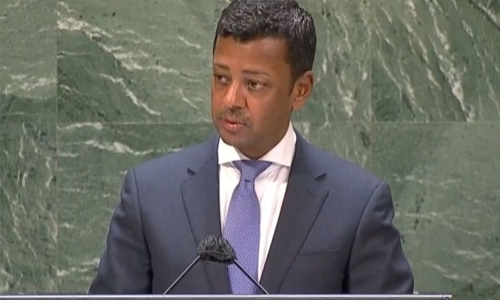 Bahrain backs global fight against trafficking in persons
TDT | Manama
The Daily Tribune – www.newsofbahrain.com
Bahrain attaches great importance to supporting all efforts that aim to combat trafficking in persons by following international standards and issuing relevant laws and regulations.
This was emphasised by the Permanent Representative of the Kingdom of Bahrain to the United Nations in New York, Ambassador Jamal Faris Al Rowaie, as he delivered a speech yesterday at the high-level meeting of the General Assembly on the evaluation of the United Nations Global Action Plan to Combat Trafficking in Persons, which was held at the UN Headquarters.
Ambassador Al Rowaie noted that under the leadership of His Majesty King Hamad bin Isa Al Khalifa and thanks to the follow-up of His Royal Highness Prince Salman bin Hamad Al Khalifa, the Crown Prince and Prime Minister, the Kingdom is making significant achievements in containing this global problem.
He reviewed the efforts of the Kingdom to maintain its position in the Tier 1 category for the fourth year in a row in the report issued by the US Department of State in the field of combating trafficking in persons.
He noted in this regard the issuance of Law No. (1) of 2008 regarding combating trafficking in persons, the establishment of the National Referral Mechanism for Vulnerable Migrants, and the establishment of an Expat Protection Centre to provide preventive and advisory services, among other accomplishments.
Ambassador Al Rowaie stated that Bahrain is keen to enhance the culture of combating trafficking in persons, and has established the Regional Centre of Excellence for capacity building in the field of combatting trafficking in persons, in cooperation with the United Nations Office on Drugs and Crime in the GCC countries and the International Organization for Migration.
He pointed out that the kingdom has set up an anti-human trafficking prosecution, specialised in human trafficking cases, which is an advanced step towards strengthening criminal protection for victims of trafficking in persons in a way that guarantees them their prescribed rights, becoming the first Arab country to establish such a prosecution.
Al Rowaie affirmed Bahrain's continued cooperation with the international community in all efforts aimed at combating trafficking in persons, preventing this cross-border crime and protecting its victims.