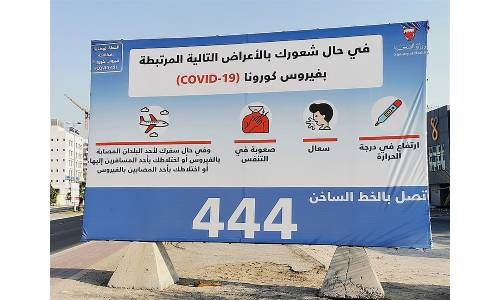 Advertising grows amid pandemic: Bahrain
TDT | Manama
The Daily Tribune – www.newsofbahrain.com
A huge increase in the number of applications for advertising licences in the Kingdom of Bahrain has been registered despite the existing coronavirus (COVID-19) pandemic.
In nine months, from January to September 2021, the Advertising Committee at the Ministry of Works, Municipalities Affairs and Urban Planning received 950 applications for advertising licences in different sites in all regions of the country, a 135% jump from 73 applications in the same period last year.
The Capital Governorate has the most number of applications with 441, followed by the South with 182 applications, Muharraq with 178, and the North with 149.
Advertising Committee chairman Engineer Muhammad Saad Al Sahli, who is also Capital Municipality Director-General, said it is currently evaluating all applications.
He noted that under the directives of the Minister of Works, Municipalities Affairs and Urban Planning, Eng. Essam bin Abdullah Khalaf, and the continuous follow-up from the Undersecretary for Municipal Affairs, the committee seeks to achieve its strategic objectives in facilitating the procedures for obtaining licences for municipal services to enhance the role of the advertising market in supporting the national economy and comprehensive development in the Kingdom.
Al Sahli said the committee is looking at increasing the use of electronic screens in several sites in all governorates to keep pace with the modern and accelerating technologies in this sector.
He added that the committee is working to unify procedures and operational models in providing advertising licences.
It works on developing service delivery mechanisms and applying flexible procedures that achieve fast and high-quality services to facilitate service access to customers and provide smooth and integrated experiences.
The Advertising Committee at the Ministry of Works, Municipalities Affairs and Urban Planning was reconstituted in September by Resolution No. 191 of 2020 headed by the Director-General of the Capital Municipality and the membership of each of the heads of the Municipal Services Licensing Department in the Southern Municipality, Capital Municipality, Muharraq Municipality and Northern Municipality, and a representative of each of the General Traffic Department, Department of Road Planning and Design in the Public Works Affairs, Electricity and Water Authority, Ministry of Housing and Ministry of Information Affairs, in addition to the legal advisor in municipal affairs.