Unified GCC stand to defeat challenges
TDT | Manama
The Daily Tribune – www.newsofbahrain.com
Gulf Cooperation Council (GCC) states have agreed to enhance commercial cooperation for the benefit of the private sector and citizens and to overcome the challenges brought by the pandemic.
This came as a consultative meeting was held yesterday chaired by Bahrain Chamber of Commerce and Industry (BCCI) Chairman Samir Abdullah Nass, also head of the Federation of Gulf Chambers.
The periodic consultative meeting was held between the Ministers of Commerce and heads of federations and chambers.
The meeting also aims to enhance commercial cooperation between the GCC states and other countries.
It discussed the active role played by the governments of the Gulf countries in supporting the private sector to overcome the effects of the COVID-19 pandemic, which left negative effects on workers, individuals and institutions.
The Gulf governments have set a series of precautionary and preventive measures to limit the spread of the virus.
Small and medium enterprises have been the most affected by the pandemic, especially since its repercussions on the economy are longer-lasting and have a stronger impact.
Nass stressed the importance of food security, which is one of the most prominent strategic challenges that the GCC countries have faced for years.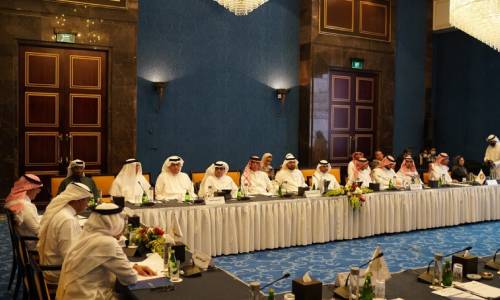 Efforts have been made and many programmes developed to deal with it, but the challenges remain.
Supply chains with food-exporting countries were stopped and disrupted, which affected prices and consumer confidence in local markets in the Gulf region.
Nass pointed out that the pandemic contributed to the global advancement of e-commerce and the launch of digital services.
The Gulf is not far from this remarkable development, he noted, but needs to expand in e-commerce and keep pace with these trends regionally and globally.
Nass stressed the importance of establishing joint Gulf platforms for electronic commerce and digital services related to intra-trade, inter-investment, capital transfer, joint ventures and other common economic interests.
The First Vice President of the Chamber of Commerce and Industry, Khaled Mohamed Naguibi, said that it is important to such a consultative meeting that serves, supports and enhances cooperation between the public and private sectors intending to achieve economic growth in the GCC countries.
He stressed the importance of a unified Gulf law for commercial concessions that will contribute to encouraging franchising activities.