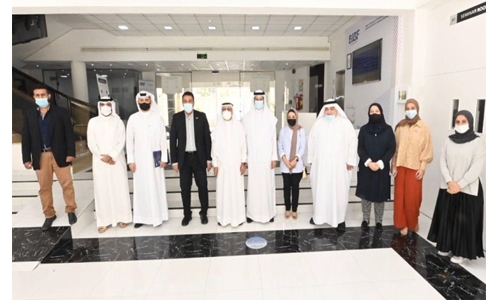 BJA, BIBF discuss training for journalists and media graduates
TDT | Manama
The Daily Tribune – www.newsofbahrain.com
The Board of Directors of the Bahrain Journalists Association (BJA) yesterday held a meeting with Bahrain Institute of Banking and Finance (BIBF) Director-General Dr Ahmed Al Shaikh and several officials. They discussed a number of training programmes for journalists and media graduates.
BJA President Isa Al Shaiji stressed the great role played by BIBF in providing various institutions with professional competencies through its training and academic programmes, noting that BIBF is a pioneering model at the international level. Al Shaiji said that cooperation with BIBF is a qualitative addition to BJA, especially in the field of training and professional development.
Dr Al Shaikh praised the pioneering role played by BJA in advancing society and supporting the process of development and progress, which reflects the Kingdom's leading status in education and cultural and civilisational development.
He expressed pride in cooperating with BJA to advance the profession of journalism in the Kingdom, by providing training and development opportunities for Bahraini journalists to increase their efficiency and hone their journalistic skills.