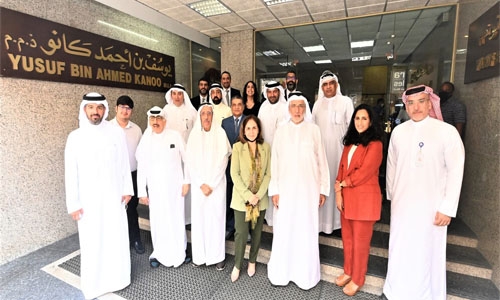 Yusuf Bin Ahmed Kanoo group converts headquarters into museum
TDT | Manama
The Daily Tribune – www.newsofbahrain.com
Yusuf bin Ahmed Kanoo Group, one of the largest independent family-owned multinationals in the Middle East, is transforming its headquarters in the Manama Souq into a museum showcasing its 130 year-long historic achievements. The group yesterday bid farewell to the office which hosted it for more than 60 years.
The building, completed in 1960, will now showcase the Kanoo family's 130 years of history that spans three continents. The group has a physical presence across the Middle East, Africa, Europe and Asia.
The group held its last board meeting yesterday with Khalid Mohamed Kanoo, Chairman of the Group's Board of Directors, other board members and senior officials. Cultural Innovations, based in London, is designing the museum for Kanoo.
Khalid Mohammed Kanoo, Chairman of Yusuf Bin Ahmed Kanoo Group, said, "The establishment of this museum is an ideal way to document the history of the Yusuf bin Ahmed Kanoo collection, as well as showcase the family values that we continue to adhere.
He added: "This project has always been one of the ideas and plans that we aspire to implement, as it celebrates the efforts of parents and grandparents in achieving this rich history of the group."