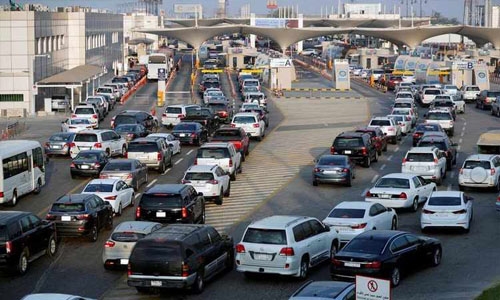 King Fahd Causeway ready to receive passengers
TDT | Manama
The Daily Tribune – www.newsofbahrain.com
The King Fahd Causeway Authority (KFCA) said all preparations related to the 25-kilometre long causeway have been completed and is now ready to receive passengers crossing the border from both countries.
According to the Passports Division, all procedures for the passengers' traffic are well in place as the decision to lift the travel suspension for citizens, and the opening of land, sea and airports comes into effect early this morning.
Ten new lanes have been added to the departure area, bringing the total to 27 lanes, in addition to 36 lanes in the arrival area, Passports Division director Colonel Duwaihi Al Sahli said. Travel requirements shall be met automatically, amid coordination with the Ministry of Health to ensure that all the necessary requirements are duly met.
The causeway was due to reopen on March 31, but that date has been pushed back to today. It has been temporarily closed since March 8 last year to control the spread of the COVID-19. On 23 July, it was reopened for allowing citizens to return without prior permission.
The causeway remained closed to non-commercial traffic from 10 September 2020. "All equipment has been completed as part of a development plan which began ever since the movement was halted due to the novel coronavirus," a statement issued by the KFCA.
The authority's chief executive officer, Emad Al Muhaisan, on Saturday said that the decision to lift the travel ban between Saudi Arabia and Bahrain would contribute to the re-establishment of social and economic ties and activities between the two Gulf countries.