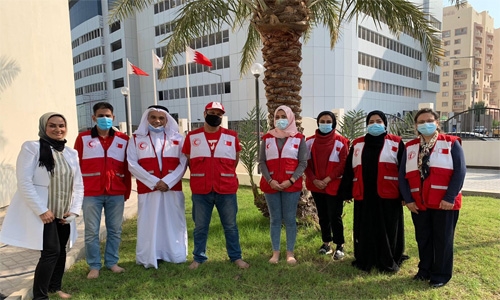 Bahrain Red Crescent Society volunteers undergo self-development training
TDT | Manama
The Daily Tribune – www.newsofbahrain.com
The Bahrain Red Crescent Society (BRCS) has organised an interactive self-development workshop entitled "Awaken Your Inner Power" for its volunteers' members. The event aimed to enhance their capabilities and skills in their private lives while performing humanitarian work, and create positive ideas that contribute to psychological stability and positive thinking.
This workshop was conducted by Iman Al Khaja, certified trainer for self-development. Mubarak Al Hadi, Bahrain Red Crescent Director-General/Acting Secretary-General, said that it comes within the framework of BRCS's work on building the personality of volunteers in all aspects.
"The more the volunteer has self-confidence and greater faith in the ability to give, the more he can achieve the higher goals of the Red Crescent in providing aid to the needy and the afflicted," Al Hadi added.
He affirmed that this workshop comes at the start of an integrated training programme implemented by BRCS for its volunteers and includes theoretical and practical information to build their capabilities and ensure the sustainability and development of relief and humanitarian work in the Kingdom of Bahrain.
Muyssar Sabri, Head of Health Awareness, said the workshop would boost the skills of volunteers and help them explore more strengths in themselves while performing their duties in humanitarian work in their practical and social life, and help them adopt bright ideas that contribute to psychological stability and positive thinking