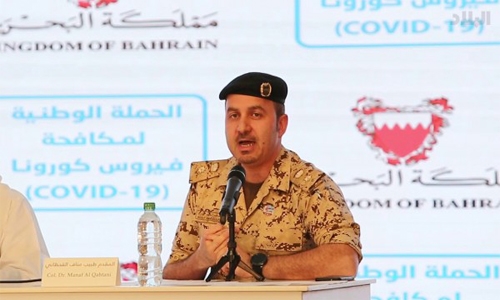 Bahrain's 1 million Covid-19 vaccine doses order to get US approval
TDT | Manama
The Daily Tribune – www.newsofbahrain.com
The highly effective coronavirus vaccine candidate of Pfizer and BioNTech, for which Bahrain placed an order for 1 million doses, is on the verge of getting US emergency approval.
Reports say Pfizer and BioNTech are to submit an emergency use authorization for its vaccine candidate known as BNT162b2.
If the FDA authorizes, the vaccines can be immediately distributed.
The news came as Manaf Al Qahtani, a member of the National Medical Taskforce for Combating the Coronavirus, revealed that Bahrain made an order for the vaccine last August.
The order, Al Qahtani said, is for 1 million doses.
The final analysis of the trial conducted by Pfizer found that its vaccine was 95 percent effective in preventing infections, even in older adults, and caused no serious concerns.
Emergency use authorization, or EUA, from the FDA, is not the same as a full approval. A EUA allows products to be used under particular circumstances before all the evidence is available for approval, said a CNN report.
Al Qahtani said Bahrain's order for vaccine followed a decision by the National Taskforce for Combating COVID-19, which is keeping a keen eye on related development going on around the world.
The order for 1 million doses followed the promising data of the vaccine candidate.
According to the company, the vaccine requires two doses a few weeks apart, and protection is achieved 28 days after the first shot.
The CNN report also points out that the Pfizer vaccine is particularly complicated, since it must be stored at minus 75 degrees Celsius, and doctors' offices and pharmacies typically do not have freezers that go that low.
 Al Qahtani said Bahrain is also in continuous contact with the other players who are developing potential COVID-19 vaccines.
Bahrain is now holding a Phase 3 clinical trial for a potential COVID-19 vaccine candidate by China's Sinopharm.
Sinopharm's chairman told the media this week that nearly a million people have now received their vaccine for emergency use.