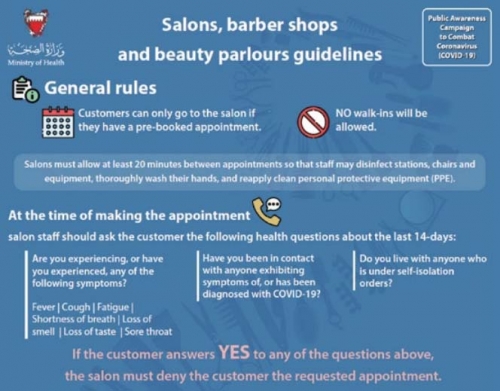 New guidelines for beauty industry
TDT | Manama
A detailed set of guidelines was issued by the Ministry of Health last night for salons, barber shops and beauty parlours as they are set to re-open today following a two-month ban due to the coronavirus (COVID-19) crisis.
The newly released guide includes general rules, a list of treatments that are prohibited, and step-by-step instructions when providing certain services. As part of the general rules, the Health Ministry stated that customers can only go to the salon if they have a pre-booked appointment, as no walk-ins are allowed.
Salons must also allow 20 minutes between customers to allow staff to disinfect stations, chairs and equipment, as well as conduct personal hygiene practices. When taking bookings, salons are now required to ask customers a few health questions about their last 14 days.
These include if they are experiencing, or have experienced, any symptoms such as fever, cough, fatigue, shortness of breath, loss of smell or taste, or sore throat; if they have been in contact with anyone showing those symptoms or been diagnosed with COVID-19; and if they live with anyone who is under self-isolation orders.
Any customers answering "yes" to any of those questions must be denied an appointment. Other general rules include using infrared thermometres to check the temperatures of staff and customers; recording customers' contact information as well as date and time of visit; practising social distancing; closing waiting areas; and using personal protective equipment at all times as well as replacing them between each customer, among others.
Salons are also required to ensure their ventilation systems are operating correctly, and must use and provide sanitisers containing 70 per cent alcohol.
The use of electronic payments must be encouraged, while certain facilities such as showers, saunas and steam rooms must remain closed. Government authorities will be conducting regular and random inspections to ensure compliance, and those that do not meet the regulations will be closed.
Salons are also prohibited from providing home services, the general rules added. Meanwhile, the Health Ministry enlisted a number of services that are prohibited.
These include facial treatments, using hairdryers, threading, microblading, using needles, henna tattoos, make-up applications, applying lashes and returnable hair extensions, tanning services, spa services such as massages and baths, and hair treatments that require the use of hairdryers.
The Ministry further issued step-by-step instructions when cutting hair, shaving, dyeing hair, waxing, and performing manicures and pedicures. The full set of guidelines are available on the Health Ministry's website for the information of both the establishments and their customers.