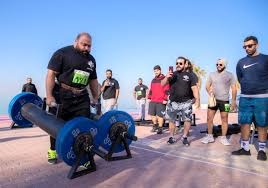 Qualifiers of Strongest GCC Man held in Kuwait
The Organising Committee of the Strongest GCC Man has held the second round of the qualifiers in Kuwait. This comes after the qualifiers took place in Bahrain and Saudi with Kuwait was the third stop.
Kuwait's qualifiers were organised at Platinum Health Club in Kuwait city and witnessed wide-scale participation from sportspeople in the country.
The event featured three competitions including torso lifting, farmer walk and car lifting. It's worth noting that the finals will take place in Bahrain in April under the patronage of HH Shaikh Khalid bin Hamad Al Khalifa, First Deputy President of the Supreme Council for Youth and Sports, and Bahrain Olympic Committee President. The championship is part of HH Shaikh Khalid's sport and humanitarian initiatives.
The funds that will be raised in the event will be dedicated to supporting cancer patients.
"We have designed a plan to make the event a huge success in line with the vision of HH Shaikh Khalid bin Hamad Al Khalifa. This is the first time we expand this prestigious championship by covering other GCC countries as we aim to bolster the friendly ties among the people of this region," Mohammed Mashalla, Vice President of the Organising Committee said.
"We want to form meaningful partnerships in bodybuilding and fitness sports and contribute to supporting young GCC sportspeople who are practicing these sports," he added. The next stop for the qualifiers will be in UAE on February 22, 2020, while Oman will be the last destination on March Participants in action during qualifiers 7, 2020.