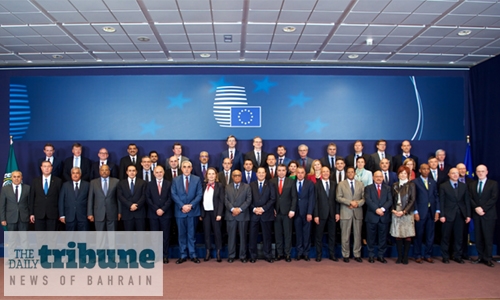 Iranian activities destabilising region, world
A top Arab Affairs Directorate official yesterday called for better coordination between world nations to address Iran's destabilising activities in the region and the world. Arab countries are keen on establishing relations with Iran, Ambassador Abdulaziz Mohammed Abdulla Aleid said, but that should be based on good neighbourliness and non-interference in the internal affairs of countries.
Iran, however, has defied all those and continues to interfere in the affairs of Bahrain and other Arab countries, the Director of Arab Affairs Directorate said. He was addressing the eighth meeting of the League of Arab States Permanent Representatives and Members of the EU Political and Security Committee of the Council of the European Union in Brussels, Belgium held in which Bahrain took part.
Iran, Abdulla Aleid pointed out, is "smuggling arms and inciting sectarian strife to undermine the security and stability of Bahrain and the rest of the brotherly Arab countries." Houthi militias supported by them are continuing their attacks on Saudi Arabia and tankers and commercial vessels in the territorial waters of the United Arab Emirates.
In this regard, there is a need to ensure the freedom of maritime navigation in international waters, he said highlighting the international conference on gulf navigation and maritime security held in Bahrain from October 21 to 22, 2019 with the participation of more than 60 countries. On Yemen, the Director of Arab Affairs Directorate at the Ministry of Foreign Affairs hailed the efforts of the Arab Coalition in establishing stability and security, stressing Bahrain's sacrifices to support legitimacy in Yemen.
Ambassador Aleid reiterated Kingdom's supports in all efforts aimed at establishing peace in Yemen. The meeting held discussions on the developments of the situations in Syria, Iraq, Yemen, Libya, Lebanon, and Iran, as well as on counter-terrorism issues and its funding, migration issues, refugees and displaced persons.
The final communique reaffirmed the strengthening of the European-Arab partnership as an appropriate regional response and their commitment to effective multilateralism and an international system based on respect for international law.