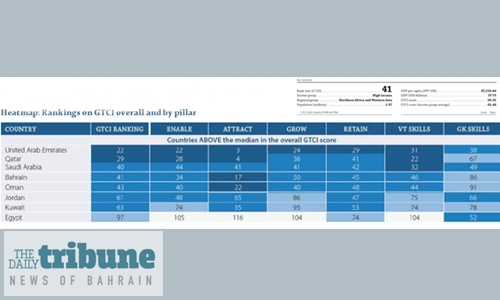 Bahrain ranks 41st in Global Talent competitive Index 2020
Bahrain ranks 41st in the Global Talent Competitive Index (GTCI) 2020, which looks into the ability of a country to attract, grow, and retain talents. Region-wise, Bahrain, which lies in the North Africa and Western Asia region, is placed 6th with a score of 50.35.
The index rates Bahrain, having a population of 1.57 million, as one of the top-performing countries when it comes to attracting talent. The index is based on research done by INSEAD in partnership with The Adecco Group and Google.
The six metrics used to decide a country's rank are - enable, attract, grow, retain, vocational skills and global knowledge skills. "This new GTCI report focuses on Global Talent in the Age of Artificial Intelligence, following the path initially explored by the GTCI 2017 theme of Talent and Technology," said Bruno Lanvin, Executive Director for Global Indices, INSEAD and Felipe Monteiro Academic Director of the Global Talent Competitiveness Index; Affiliate Professor of Strategy, INSEAD.
The talent competition, and labour markets in general, have started to be impacted by the rise of AI; this trend will not diminish in the foreseeable future, the report added.
UAE leads in the region
The United Arab Emirates, ranked 22nd globally, enjoys a leading position in the North Africa and Western Asia region with a score of 62.63, after Israel with a score of 65.66. Closely following is Qatar with a global ranking of 29. Saudi Arabia, with a score of 51.48, is ranked 40th globally and 5th regionally.
Following Bahrain in the region are Oman (rank 7), Azerbaijan (8th), Armenia (9th), Jordan (10th), Kuwait (11th), Georgia (12th), Turkey (13th) and Tunisia (14th) among others. The top 3 positions in this year's index are occupied by Switzerland, the United States, and Singapore.
Switzerland (1st) remains the outright leader in the GTCI by virtue of its strong performances in almost every dimension. The worst-performing upper-middle-income country is Venezuela, which has primarily suffered from a worsening ability to enable and attract talent.
"Thus, Northern America and Europe—with the greatest shares of high-income countries—are the two best-performing regions, followed by Eastern, Southeastern Asia and Oceania," the report said.