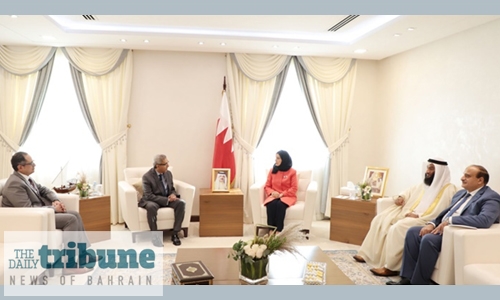 Speaker lauds deep-rooted, strategic Bahraini-Egyptian relations
Speaker of the Council of Representatives, Fawzia Zainal, has lauded the deep-rooted strategic relations between Bahrain and Egypt, strengthened thanks to the directives of His Majesty King Hamad bin Isa Al Khalifa, and President Abdel Fattah El Sisi, of Egypt.
While receiving here the newly-appointed Egyptian Ambassador to Bahrain, Yasser Mohammed Shaaban, the Speaker said that co-operation across various fields and vital sectors enjoy the interest of the two brotherly countries, stressing that Egypt's security and stability are integral to those of Bahrain and the region.
She highlighted the existing co-operation, co-ordination and complementarity between Bahrain's Council of Representatives and Egypt's House of Representatives at various regional and international parliamentary gatherings.
She also highlighted the existing partnership between the legislative institutions at the level of the secretariat-general. She wished the envoy every success in carrying out his diplomatic duties to strengthen partnership between two countries.