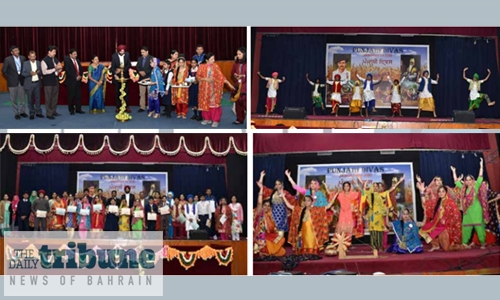 ISB celebrates Punjabi Divas 2020 with pomp, gaiety
Indian School Bahrain (ISB) celebrated Punjabi Divas 2020 in vibrant colours on Tuesday at the school's Jashanmal Auditorium. Jhujhar Singh Minhas, Managing Director, Dashmesh Groups of Companies, was the chief guest.
Jhujhar Singh Minhas highlighted the contribution of Punjab state and Punjabi language, an Indo-Aryan language with more than 125 million native speakers in the Indian subcontinent and around the world. He appreciated the efforts of the students and teachers to make the Punjabi Day a big success.
ISB Asst.Secretary Premalatha NS, Principal VR Palaniswamy, staff representative Johnson K Devassy, Vice-Principals Anand Nair, Satheesh G, Vinod S, Academic Coordinator MS Pillai, Head Teachers Jose Thomas, Parvathi Devdasan, Priya Laji, Head Teachers (Activity) Sreekanth S and Junith CM were present.
Trophies and certificates were awarded to all winners of different competitions by the chief guest. The programme, organised by the ISB Punjabi Language Department, was a week-long celebration wherein many competitions were organised for Punjabi students. The main competitions were in handwriting, picture identification and poem recitation.
Apart from competitions, there were a variety of programmes such as Punjabi 'Giddha dance, Bhangra Dance, Punjabi poems and songs. A slide presentation about the state of Punjab was presented by students of classes VI to X.