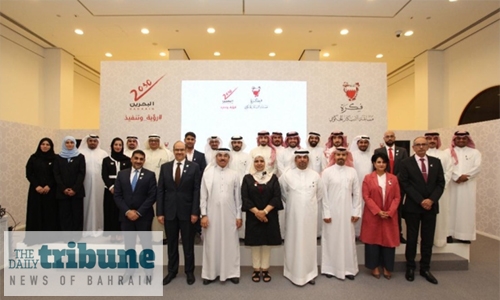 Twelve ideas qualify to the final stage of Fikra second edition
As part of the second edition of the Government Innovation Competition (Fikra), launched by His Royal Highness Prince Salman bin Hamad Al Khalifa, the Crown Prince, Deputy Supreme Commander and First Deputy Prime Minister, 12 ideas have qualified for the final stage of the competition.
These finalists will now have to present their ideas to an evaluation committee, made out of Government Ministers, which will carefully evaluate all the proposals and select those projects that will end up being implemented. In order to qualify to the final 12, each of the 40 initially selected ideas had to be presented to an evaluation committee in a three-minute pitch.
The selected ideas were: Government Procurement Platform Submitted by Ali Bukhammas and Abdulaziz Al-Buainain from the Civil Service Bureau, Ahmed Al-Kuwari from the National Bureau for Revenues, and Mohammed BuAli from the Ministry of Finance and National Economy.
The second one was Courts Application: Submitted by Ahmed Alaraifi from the Office of the First Deputy Prime Minister Virtual Employment Center, the third one, was submitted by Iman Al Sammak and Ibtihal Al Shihabi from the Labour Market Regulatory Authority while AlHafeez, an application for productive families, was submitted by Maryam Hassan from the Ministry of Labour and Social Development.
The National Technical Skills Development Programme was submitted by Ahmed Al Saffar from the Bahrain Training Institute. The sixth one, National Strategy for Electric Vehicles, was submitted by Mona Al Alawi from the Ministry of Industry, Commerce, and Tourism. EParkBH, which deals with the replacement of parking meters with an application, was submitted by Alia Al Qahtani from the Ministry of Interior, and Nouf Al Qahtani from the Ministry of Youth and Sports.
E-Sick Leave System was submitted by Ahmed Buhaza and Noora Muhanna from the Ministry of Finance and National Economy while 'Citizen's Digital Document Wallet' on Blockchain was submitted by Ali Al Aradi from the Ministry of Foreign Affairs.
Government Vehicles Allocation App was submitted by AbdulRahman Essam from the National Audit Office and Energies (Taqat) was submitted by Elyas AbdulGhaffar from the Social Insurance Organisation.