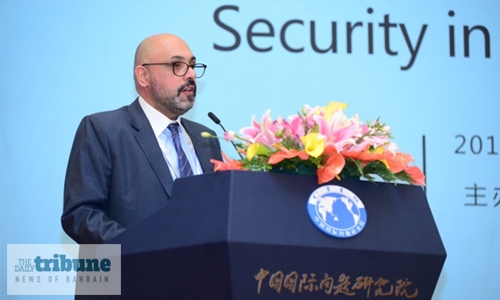 Derasat attends Beijing Mideast Security Forum
The Bahrain Centre for Strategic, International and Energy Studies "Derasat" signed a memorandum of understanding (MoU) with the China Institute for International Studies (CIIS), as part of its recent participation in the Middle East Security Forum in Beijing. Katadah Zaman, Executive Director of Derasat, signed the MoU on behalf of the Centre, while CIIS Vice President Rong Ying signed it on behalf of the Chinese Institute.
The three-year MoU involved mutual academic and research cooperation, creating a better understanding between scholars, exchanging publications, exchanging information, participation in mutual events, and exchanging researchers under assigned short and long term academic and research tasks. The MoU also included joint research programs on issues of mutual concern, and co-organising events on topics of mutual interest.
Mr Zaman addressed the Middle East Security Forum on behalf of Derasat. His speech included an overview of the historic value of the Kingdom of Bahrain's location and civilisational value to the ancient Silk Road 2,000 years ago. The Kingdom's modern status and accomplishments add to its geographic value to help revive the old heritage that awaits Arab-Sino nurturing.
He assured the Forum that The Kingdom, under the wise leadership of His Majesty King Hamad bin Isa Al Khalifa, is an example of resolve that supports unity through diversity, aiming to support the foundations of democratic practices and the people's participation.