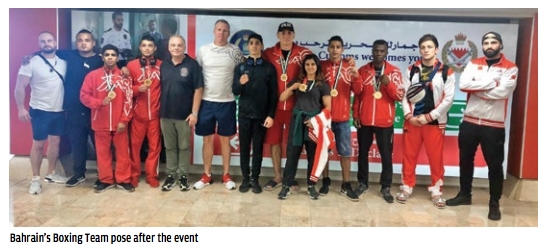 The Clash of the Countries Sovereign Boxing Tournament was held in the city of Dubai in the United Arab Emirates which was a fantastic gala altogether 12 bouts in the schedule. One of the developing boxing countries Bahrain impressed in the tournament winning five gold medals in the ultramodern city of Dubai. The United Arab Emirates hosted a few events already this year and their boxers competed for almost all of the ASBC Asian Boxing Championships in 2019. Afghanistan, Bahrain, India, Ireland, and the United Arab Emirates sent boxers to the international competition which became a super show at the end of the year.
Two female contests were held in the Clash of the Countries Sovereign Boxing Tournament in Dubai where international level boxers met each other. Bahrain competed with a woman boxer at the ASBC Asian Elite Boxing Championships in Bangkok this April but their team introduced a new female talent in Dubai. Their new national team member Priyanka Toshi defeated India's Gisel Camoens winning the bout unanimously which was a superb debut in the international stage. Mohamed Bilal became Bahrain's first-ever male boxer who attended in an ASBC Asian Elite Boxing Championships. The 20-year-old flyweight (52kg) talent competed for many further tournaments since the Bangkok continental event and he used up those experiences in his next fight in Dubai.
Bilal used his best tempo to catch United Arab Emirates' Khalid Fesal and won his important fight unanimously. Bahrain's Yousuf Al-Bloushi claimed the bronze medal in the Ramadan Open Boxing Championships half year ago which he changed into gold in Dubai. Bahrain's lightweight (60kg) boxer was slightly better than United Arab Emirates' AIBA Asian & Oceanian Olympic Qualification Event competitor Sadid Saad Mazher. United Arab Emirates' duo 18-year-old Amer Al-Suwaider and former Moroccan national team member El Mehdi El Jamari both impressed in their fights against tough opponents. Al-Suwaider controlled all of the rounds against Afghanistan's Bilal Noor and won the bout unanimously.
El Jamari has done his debut for the United Arab Emirates and defeated one of the top Europeans, Kurt Walker of Ireland winning the fight by split decision. Abdullah Fadhel won the Ramadan Open Boxing Championships and returned to the United Arab Emirates with high expectations which he realized against the host country's welterweight (69kg) No.1, Greece Saja in Dubai. Bahrain's new national team member former Russian boxer Marat Isaev was not able to stop his opponent's attacks and lost to Ireland's Fergus Quinn at the middleweight (75kg) fight. Bahrain's best male boxer Denis Latypov attended the World Series of Boxing as a member of the Russian franchise a few years ago and following his change to the Arabic country, he is focusing on the Tokyo 2020 Olympic Games. The super heavyweight (+91kg) boxer followed his coach Tony Davis' instructions and defeated Ireland's experienced Stephen McMonagle in one of the best fights of the day.