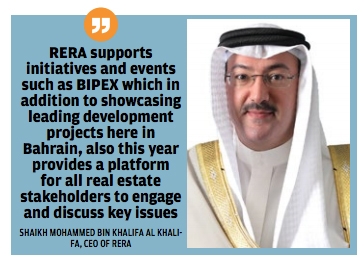 BIPEX, RERA to host conference
The 12th Edition of the Bahrain International Property Exhibition (BIPEX) in collaboration with the Real Estate Regulatory Authority Bahrain (RERA) will host a two-day conference at the Bahrain International Exhibition & Convention. The event will bring together exhibitors from Bahrain and the region to showcase projects. The conference, under the patronage of Shaikh Khalid bin Abdulla Al Khalifa, Deputy Prime Minister of the Kingdom of Bahrain, will highlight innovation and digital solutions for the real estate sector in the MENA. At the BIPEX Conference, real estate insiders will discuss, debate and explore topics of interest to the real estate industry.
BIPEX organised seminars include "The future of Real Estate" on December 8 from 10:00 am - 11:00 am and "Financing Real Estate' on December 9 from 10:00am - 11:00 am. Additionally, there will be two-panel discussions focused on sustainability; which will be held on December 8 and the rise of PropTech on December 9. Both sessions will be from 11:30 am - 12:30 am. Simultaneously, RERA will be hosting three in-depth sessions from December 8 till December 9.
RERA's first session "Real Estate Professionals - ensure compliance with Anti-Money Laundering Law & Regulations (RERA) & update on key regulatory changes for the sector." The session is open to all Brokers, Sales Agents, Owners Association Managers and Property Managers. It will be held on December 8 and 9 from 1:00 pm - 3:00 pm. The second session will be a panel discussion with leading experts on 'Owners Associations - getting it right for all stakeholders' on December 8 from 3:00 pm - 4:30 pm. This session is aimed at providing practitioners such as Owners Association Managers and Property Managers with key insights on this important topic. The Third session highlights How to create an Owners Association" - key steps for owners and investors to have their say in how service charges are set, how property is managed and how to protect their investment. The session will be open to the general public from 5:00 pm - 6:30 pm and will run for two days - December 8 and 9.
To register email to events@ rera.gov.bh quoting details of seminars to attend. Shaikh Mohammed bin Khalifa Al Khalifa, CEO of RERA, said RERA supports initiatives and events such as BIPEX which in addition to showcasing leading development projects here in Bahrain, also this year provides a platform for all real estate stakeholders to engage and discuss key issues for the sector. "BIPEX is a platform to exchange and share knowledge, and this year we are doing this on a larger scale with our partners," Mohd Al Sayed, BIPEX Chairman.