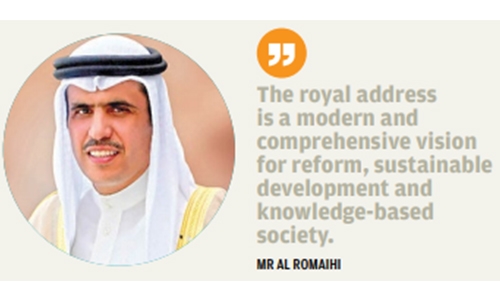 Royal address emphasises the vision to pursue national march
Information Affairs Minister, Bahrain Institute of Political Development (BIPD) Board of Trustees' Chairman Ali Al Romaihi praised the keynote royal speech which was delivered by His Majesty King Hamad bin Isa Al Khalifa at the opening of the second session of the 5th legislative term.
The minister described the royal address as a modern and comprehensive vision for reform, sustainable development and knowledge-based society, to pursue the national march within the separation between the executive, legislative and judicial branches of government.
He stressed co-operation between the three constitutionally-vested branches of government to upgrade national legislations, enforce the state of law and institutions, guarantee justice, respect human rights and public liberties. He commended the military and security agencies which assume their national duties with utmost dedication to defend national security and stability, protect development and reform strides.
He hailed royal directives which, he said, represent a roadmap to attain more development achievements, under the Government Action Plan (GAP), chaired by His Royal Highness Prime Minister Prince Khalifa bin Salman Al Khalifa, with the support of His Royal Highness Prince Salman bin Hamad Al Khalifa, the Crown Prince, Deputy Supreme Commander and First Deputy Premier, on the basis of sustainable development, justice and competitiveness and in accordance with the 2030 Bahrain Economic Vision, by keeping abreast of technological and scientific strides, attracting investments to digitalise economy, achieving food security, which will have a positive impact on diversifying the sources of revenues and the improvement of citizens' standards of living.
The minister underscored the importance of the keynote address in defining national priorities, highlighting Bahrain's standing as a global model that lays the foundations for a modern civil state, consolidates peaceful co-existence between religions, cultures and civilisations, in a civilised, peaceful and secure society.
He lauded the royal keynote address which laid the foundations for a sound and wise foreign policy that respects international legitimacy, advocates regional and global security, stability and peace, which represent the cornerstone for the attainment of sustainable economic growth, prosperity and human welfare.