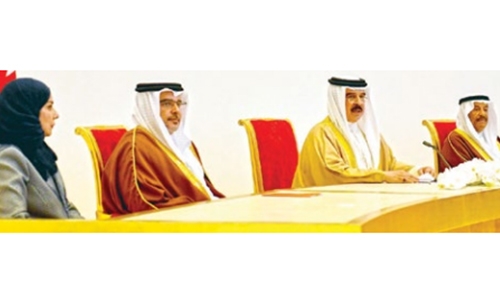 His Majesty has directed the lawmakers to channel all efforts in one direction so that the Kingdom would achieve self-reliance in many areas including food production. This came as His Majesty King Hamad bin Isa Al Khalifa patronised yesterday, in the presence of His Royal Highness Prince Salman bin Hamad Al Khalifa, the Crown Prince, Deputy Supreme Commander and First Deputy Prime Minister, the second session of the fifth Legislative Term of the Shura and Representatives councils.
HM King Hamad was welcomed by the Speaker of the Council of Representatives, Fawzia Zainal, and Shura Council Chairman, Ali Saleh Al Saleh, on arrival at the Isa Cultural Centre, accompanied by a constellation of police cavalry. His Majesty told the lawmakers that it was a source of pleasure and pride to open the second session of the assembly in its fifth legislative term.
"On this auspicious day, we congratulate everyone on the centenary of our country's development across various fields, as evidenced by both human testimonies and material indicators.
These developments, part of our overall modernisation programme, underline the authenticity of the founding of the Bahraini State over two centuries ago, led by pioneers whose accomplishments we stand before today with the utmost appreciation and respect." His Majesty highlighted that economy remains a top priority when it comes to implementing new policies.
"Bahrain continues to pay close attention to the oil and gas sector in light of the major discoveries announced recently, and we have directed that the pace of development of such projects to be accelerated.
"The launch of a series of major development projects, including the largest expansion of the Bapco refinery, the expansion of Banagas, the opening of the liquefied gas terminal, Alba's Line 6 project, and the operation of the new pipeline with the Kingdom of Saudi Arabia, will serve a major boost for the economy."