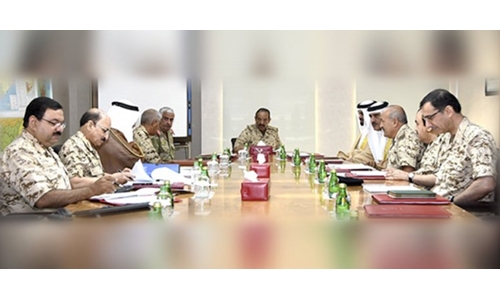 Commander-in-Chief chairs Military Pensions Supreme Council meeting
The Commander-in-Chief Field Marshal Shaikh Khalifa bin Ahmed Al Khalifa chaired the Military Pensions Supreme Council meeting yesterday in the presence of National Guard President His Highness General Shaikh Mohammed bin Isa Al Khalifa, Finance and National Economy Minister Shaikh Salman bin Khalifa Al Khalifa, National Security Agency President Lt-General Adel bin Khalifa Al Fahdel, BDF Chief-of-Staff Lt-General Dhiyab bin Saqr Al Nuaimi, and Interior Ministry Undersecretary Shaikh Nasser bin Abdulrahman Al Khalifa.
The council discussed general policy accomplishments and management of the Military Pensions Fund including administrative, technical rules and regulations. The council also discussed investment plans regarding management and investment of the military fund moneys. It also considered general policies of the military pensions fund.
The BDF Commander-in-Chief praised the efforts of the members and general director of the Military Pension Fund. He urged to continue offering ideas and visions in this field that will ensure the sustainability and development of the military pension fund, preservation of the retirees moneys and setting regulations and laws capable of achievement of such matters and to achieve more benefits.
Assistant Chief-of-Staff for Human Resources Major-General Shaikh Ali bin Rashid Al Khalifa, Chief of Military Judiciary and Cassation Court president Major-General Dr Yousef Rashid Flaifel, Director of Finance Major-General Ibrahim Abdullah Al Mahmoud, and General Director of the Military Pension Fund Brigadier Adel Isa Alzayani, were also present.