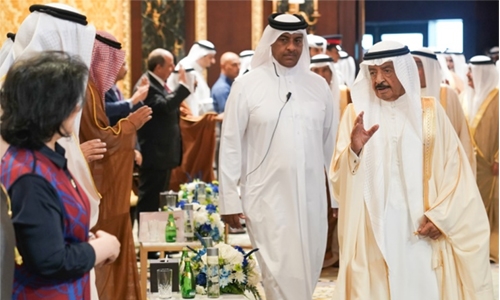 Minister of Information Affairs Ali bin Mohammed Al Romaihi, the Board of Trustees Chairman of Bahrain Institute for Political Development (BIPD), praised His Royal Highness Prime Minister Prince Khalifa bin Salman Al Khalifa's patronage of the distribution ceremony of the 4th edition of Khalifa bin Salman Press Award yesterday.
He described the event as an accolade to the impartial and objective national word and its enlightening and constructive role in serving the homeland and citizens as well as promoting noble humanitarian values in the state of law and institutions.
The Information Minister affirmed that honouring the best journalistic works for the fourth consecutive year reflects the government's support to the press and media freedom and its outstanding contribution as a key partner in defending national security and stability and promoting achievements in the prosperous era of His Majesty King Hamad bin Isa Al Khalifa.
He pointed out the Information Ministry's keenness to boost the national role of the media and press through seven daily and weekly newspapers, 13 monthly magazines, 124 news bulletins, six TV channels and ten radio stations. He underscored the role of the competent and well-qualified national competencies in serving the government's action plan and the Economic Vision 2030.