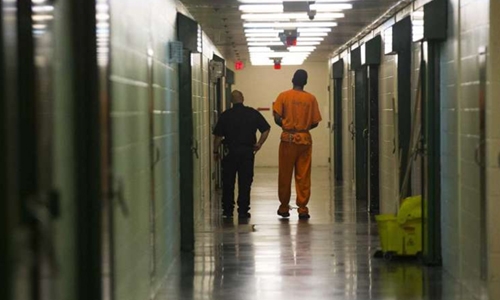 Inmate gets three-year jail for attacking prison guard
A young defendant who was convicted of beating up a prison guard has been sentenced to three more years in prison by the First High Criminal Court. According to Prosecutors, the accused had asked the physician on duty at Dry Dock Prison clinic to give him a sedative drug or "else he would commit suicide".
"The doctor rejected his request and asked the prison guard to take the accused to his cell. The accused turned outrageous and began beating up the guard," the Prosecutors added. Later a group of prison guards jumped into the scene and handcuffed the accused and took him to his cell.
The accused was charged with attacking a prison guard while performing his official duties. The accused refused to attend court proceedings and the sentence was read out by the judge in his absence, sources said. A delegation from the Office of the Ombudsman, led by the Director of Monitoring of Prisons and Detention Facilities, Hamad Salman Taqi, had recently paid a visit to the Dry Dock Detention Centre.
The visit was within the mandate of the Ombudsman Office to follow up on the activities and events provided to inmates and remand detainees to educate them religiously and culturally. The delegation was informed about the activities, events and programmes provided by the Dry Dock Detention Centre to the remand detainees in various cultural fields, in line with the directives of the Interior Minister, General Shaikh Rashid bin Abdulla Al Khalifa, and the Interior MInistry's officials.
The Monitoring of Prisons and Detention Facilities Director lauded the events and activities, noting that they reflect efforts to consolidate the respect for human rights within the detention facility, and create a positive human environment that encourages detainees to be involved in meaningful activities.