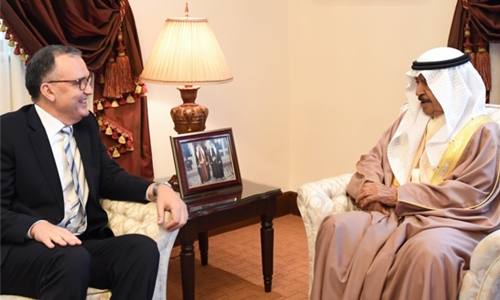 Bahraini-Moroccan relations on track
His Royal Highness Prime Minister Prince Khalifa bin Salman Al Khalifa yesterday received, at his Palace in Riffa, the newly-appointed Moroccan Ambassador to Bahrain, Mostafa Benkhayi. HRH Premier congratulated Mostafa Benkhayi on his appointment to his post, wishing him every success in achieving common aspirations.
The ambassador expressed deepest congratulations to HRH the Prime Minister on the on the UN's declaration of the 5th of April of each year as an "International Day of Conscience", in response to an initiative launched by HRH the Premier earlier this year. "As Arabs, we are proud of this achievement, and this initiative for which the world is currently in dire need. This demonstrates that the Kingdom of Bahrain has become an active player at the international arena thanks to HRH Premier's vision in support for realism, clarity and responsibility.
It also proves that Bahrain has an in-depth analysis of the events aimed at consolidating the International Community's efforts towards peace and stability," he said. The Prime Minister stressed that the deep-rooted Bahraini-Moroccan relations are based on solid foundations of mutual understanding and love between the two kingdoms' leaderships and brotherly peoples. HRH Premier highlighted the kingdom's desire to strengthen cooperation with Morocco in various fields to serve common interests and open up new horizons that would benefit the two countries.
HRH the Prime Minister commended the efforts exerted by Morocco, under the leadership of HM King Mohammed VI, to enhance joint Arab action, wishing the Moroccan leadership and people further progress and prosperity. The envoy expressed sincere thanks and appreciation to HRH the Prime Minister for his support for all efforts aimed at bolstering cooperation between the two brotherly countries, expressing delight at meeting HRH Premier, who, he said, is a prominent Arab and international personality whose wisdom is widely acclaimed.
He stressed his country's keenness on strengthening solidarity and consultation with Bahrain across various sectors, particularly the economic and investment ones. He lauded the progress boom currently witnessed by the kingdom in various fields.