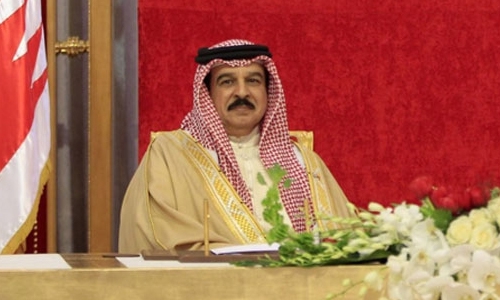 'Bahrain duty-bound' to secure maritime routes
The Kingdom is duty-bound to join the global efforts to secure maritime routes, said His Majesty yesterday. This came as His Majesty King Hamad bin Isa Al Khalifa, the Supreme Commander, visited the Royal Bahrain Naval Force yesterday. Upon arrival, His Majesty was received by Lieutenant General Abdullah Bin Hassan Al Nuaimi, Minister for Defence Affairs, General Dhiyab Bin Saqr Al Nuaimi, Chief-of-Staff, as well as the Commander of the Royal Bahrain Naval Force and a number of senior officers.
Also present were US Ambassador Justin Siberell, Vice-Admiral James Malloy, Commander of the US Naval Forces Central Command and Commander of the US Fifth Fleet, and Commodore Dean Basset, United Kingdom Maritime Component Commander and Deputy Commander of the Combined Maritime Forces.
His Majesty the King commended the efforts of the brave personnel of the Royal Bahrain Naval Force in carrying out their noble duty, alongside their courageous brothers from the Bahrain Defence Force, to defend their country and its civilisational gains. His Majesty praised their important participation in guaranteeing the freedom of international maritime navigation and combatting piracy in the region, expressing appreciation for the fruitful efforts of the Commander and personnel of the Royal Bahrain Naval Force.
His Majesty also met a number of officers from the Bahrain Defence Force, the Cooperation Council for the Arab States of the Gulf, the US Naval Support Activity, and the UK Maritime Component Command. "We are witnessing continued success in the coordination and cooperation initiatives between us, which reaffirms our sound security and defence directions, and is a source of satisfaction and pride in the vital and constructive role of our forces working together to enhance our security and defend our interests.
"We also find in these efforts an honourable example of responsibility and professionalism in carrying out all tasks with determination and dedication. "The most important of these is the duty to preserve the safety of maritime navigation and secure international corridors for trade and energy, the protection of which is a responsibility we all bear out of our duty to the stability of the region and the world as a whole."
His Majesty then visited the Naval Support Activity headquarters in Bahrain, where he was received by Vice Admiral James Malloy and Ambassador Siberell.