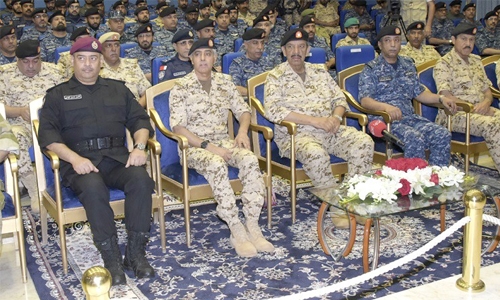 'Dawn of Storms' Naval tactical drill concludes
The Commander-in-Chief Field Marshal Shaikh Khalifa bin Ahmed Al Khalifa yesterday took part in the conclusion of "Dawn of Storms 23" Naval Tactical Drill implemented by the Royal Bahrain Navy Force (RBNF) with the participation of BDF, National Guard and Interior Ministry's Coast Guard units.
The drill, the BDF Commander-in-Chief said, will help bring more efficiency to RBNF adding, "Royal Bahraini Naval Force perform one of most advanced defence duties along with the ground and air support forces." Earlier upon arrival, the BDF Commander-in-chief was greeted by Chief-of-Staff General Dhiyab bin Saqr Al Nuaimi, Royal Bahrain Navy Force Commander, Naval Major-General Mohammed Yousef Al-Asam, and senior officers.
The RBNF commander expressed utmost gratitude and appreciation to the BDF Commander-in-Chief for patronising the conclusion of the drill. He stressed the importance of administrative and combat readiness to confront any threats or dangers.
Director of the BDF Command Major-General Hassan Mohammed Saad, Assistant Chief-of-Staff Major-General Shaikh Ali bin Rashid Al Khalifa, Public Security Chief Major-General Tariq Hassan Al Hasan, National Guard Director of Staff Major-General Shaikh Abdulaziz bin Saud Al Khalifa, and senior officers were also present.