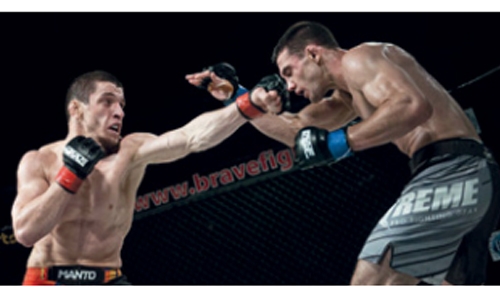 Magomedov from KHK MMA to headline Brave 21
Marat Magomedov will headline the main event of first ever edition of Brave Combat Federation taking place in the Kingdom of Saudi Arabia. Marat Magomedov trains with the KHK MMA Fight Team in Bahrain found by HH Shaikh Khalid bin Hamad Al Khalifa. Magomedov has a professional record of 10 wins and a draw against a single loss.
In the main event, Marat will face Jeremy Kennedy from Canada who has a professional record of 12 wins against a single loss in a featherweight bout. The bout is crucial as it paves the road to find the next contender for the featherweight world championship title at Brave Combat Federation which is held by Bubba Jenkins.
Also campaigning for the opportunity to be a contender for the world championship title will be submission specialist, Gabriel Miranda Fly who will be facing Akmat Magomedov during the same fight night.