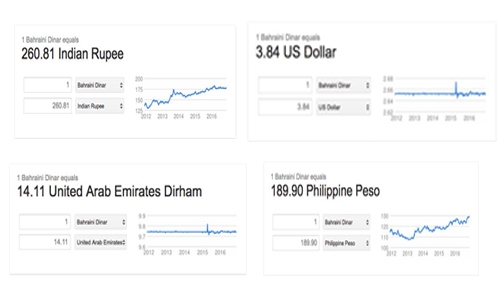 Panic as Google wrongly values Bahraini Dinar
Manama : Panic spread among people in Bahrain, especially expats, as the Bahrain dinar (BHD) was over-valued by Google and a currency exchange website.
According to Google Search this morning, 1 Bahraini Dinar = 3.84 US Dollar, 14.11 UAE Dirham, 260.81 Indian Rupees, 402.5 Pakistani Rupees, 189.9 Philippine Peso, 302.96 Bangladeshi Taka.
People have been taking screen shots of the Google search results and circulating in various social media platforms. This is being extensively shared without confirming the authenticity of the information.
However Bahrain officials confirmed this was just an error and there has been no such change in the value of the BHD.
At around 2 pm (Bahrain time) Google corrected the error.
Expats were waiting for exchange houses to open this morning in order to rush to send money back home and thus hoping to "make use of the opportunity'.
Meanwhile the websites of leading exchange houses in Bahrain showed the normal rates.
1 Bahraini Dinar = 9.6 UAE Dirham, 207 Bangladeshi Taka, 2 British Pound, 176.6 Indian Rupees, 127.8 Philippine Peso, 275.4 Pakistani Rupees and so on.
Besides Google, a leading currency exchange rates website called XE has also been showing incorrect rates for the BHD.
Their website converts 1 Bahraini Dinar = 2.78 British Pound, 171.13 Philippine Peso, 235.3 Indian Rupees, 3.46 US Dollar, 363.1 Pakistani Rupees, 273.2 Bangladeshi Taka.
Meanwhile Central Bank of Bahrain (CBB) spokesperson said that they were aware of the wrong information that was spreading in social media regarding the currency exchange rate. "There is no change in the exchange rate and we are taking appropriate measures to correct the wrong information that is spreading," they said.
Bahrain Financing Company (BFC) said that they have been receiving a lot of phone calls regarding the exchange rates from customers this morning.
"It is a technical error which is seen in Google and we are aware of it," said Zonal Manager Vipin Mathew.
"Some currency converter websites are showing that 1 BD is equal to INR 235 which is absolutely wrong."
News of Bahrain has contacted Google and XE informing them of the error.
About 15 hours after News of Bahrain contacted XE by mail regarding the error, they responded thus, "We apologize for the delay in responding to your email. Please know that we had multiple upstream providers transmitting the recorded rates that we were providing for BHD.
Our rates were brought back in line earlier this morning. This rate fluctuation is being further investigated with our upstream providers.
We apologize for this inconvenience and thank you for your continued support."
Besides at around 11pm Bahrain time, XE tweeted, "Apologies for the BHD rate discrepancy. The cause was due to data received from our multiple upstream providers. Rates are now correct."