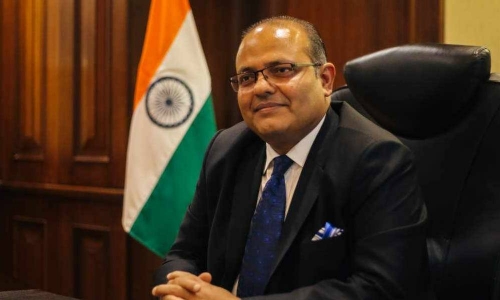 Celebrating 75 years of India's journey
By Piyush Srivastava, Ambassador of India to the Kingdom of Bahrain
On the occasion of 76th Independence Day of India, I extend my warm greetings and felicitations to all Indian nationals, persons of Indian origin and friends of India in the Kingdom of Bahrain.
This is a historic year for us. We are celebrating 75th anniversary of India's independence with the theme "Azadi Ka Amrit Mahotsav".
The celebrations spanning over two years were inaugurated by Hon'ble Prime Minister of India, Shri Narendra Modi on 12 March 2021, commemorating the historic Dandi march. We look at 75 years of our nation's journey with pride and a sense of fulfilment.
A pluralistic society and the largest democracy on earth, India has made tremendous strides in socio-economic development, and in all sectors of the economy- agriculture, industry and infrastructure, health, education, and services.
Our scientific and technological advances and giant leaps in hi-tech areas of space, defence, IT, artificial intelligence, renewable energy, pharma and medical are recognized across the world. Government of India's Atma Nirbhar Bharat (Self-Reliant India) programme and substantial efforts for post-Covid economic recovery have led to India becoming one of the fastest growing major economies in the world today.
Indian economy, the 3rd largest (in PPP terms) in the world, is well poised to become the growth engine of the world. India is steadily claiming its place in the global value chain of manufacturing.
In the FY 2021-22, India attracted its highest ever FDI of about USD 85 billion. This is testimony to our aggressive push for economic and infrastructure development, and a business and investor-friendly climate.
As we take these strides, we have followed the principle of Vasudaiva Kutumbakam' i.e. 'the world is one family'. This was evident in India's leading role in the global fight against Covid-19 pandemic, the most difficult health and economic challenges the world has seen in recent times.
With its top-class and highly competitive pharmaceutical industry which is 3rd largest in the world by volume, and world's largest vaccine production capacity, India provided vaccines, medicines and other medical assistance to over 150 countries across the world.
This year assumes special significance as India and the Kingdom of Bahrain are celebrating the Golden Jubilee of the establishment of diplomatic relations. The historical bonds of friendship and people-to-people connect between India and Bahrain have been strengthened over the years.
This was evident in the excellent collaboration between our two countries in dealing with Covid-19 pandemic. I take this opportunity to express our thanks and gratitude to the Leadership and the Government of Bahrain for taking exceptional care of the Indian community, including providing free vaccination at par with its citizens, during these difficult times.
Despite the restrictions posed by the pandemic, our deep-rooted multifaceted bilateral cooperation continued to grow. Hon'ble Minister of State for External Affairs Mr. V. Muraleedharan visited Bahrain in August/ September 2021.
HE. Dr Shaikh Abdulla bin Ahmed Al Khalifa, Undersecretary for Political Affairs, MoFA visited India in March 2022 for holding the 5th round of Foreign Office Consultations. The Deputy Chief of the Indian Navy, Vice Admiral Sanjay Mahindru visited Bahrain last month.
Bahrain joined the International Solar Alliance this year. India joined Combined Maritime Forces, headquartered in Bahrain, as Associate Partner. Both sides have held a number of bilateral meetings between the government agencies and private sectors, which led to increase in collaboration in diverse areas including space, maritime security, renewable energy, health, food security, IT and fintech.
Our two countries have achieved their highest-ever bilateral trade of US$ 1.65 billion, an increase of over 55% from the last year. Indian diaspora has been an integral part of India's journey and growth story.
The dynamic and vibrant Indian community in Bahrain has immensely contributed to strengthening our trade, cultural and people-to-people ties. They have significantly contributed to the economic development of the Kingdom of Bahrain.
On its part, the Kingdom, based on its principles of tolerance and peaceful co-existence has welcomed the Indian community with open arms. I wish continued progress, well-being and prosperity to the friendly people of the Kingdom of Bahrain.
Long live the India-Bahrain friendship!