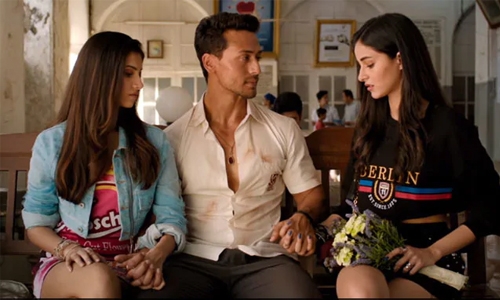 Student of the Year 2: a fun film with a weak script
Student of the Year 2 is a 2019 Indian Hindi-language teen drama film written by Arshad Sayed and directed by Punit Malhotra. A sequel to the 2012 film Student of the Year, it stars Tiger Shroff, Tara Sutaria and Ananya Panday. The film follows Rohan, a college student who switches to a better university to rekindle his relationship with his childhood sweetheart who studies there. When Rohan is rusticated, he returns to his old college and vows to lead his team to victory in an inter-college cup against his former college.
The film received generally mixed reviews from critics, with the script and unreal situation receiving criticism. Student of the Year 2 was released to generally mixed reviews from critics; it also received a mixed reception from the public. Criticism was primarily directed to the script and unreal setting of the film. Meena Iyer of Daily News and Analysis gave it three stars out of five, writing, "This is the kind of film, which draws inspiration from the Archie comics with Tiger being Archie, flanked by a Veronica (Ananya) and Betty (Tara)".
She concludes, "Apart from Will Smith's miss-if-youblink appearance, watch [the film] for Tiger. Even when things around him are caving in, his ballerina grace is intact". Kunal Guha of Mumbai Mirror gave two and a half stars out of five and wrote it "excessively leans on tested formula", but follows, "There's just something winning about a man with modest means, forcing his privileged adversary to eat dust". Nandini Ramnath of Scroll.in, who gave the film two stars out of five, wrote, "The sequel that nobody wanted is neither an improvement over the original nor a downgrade of it", referring to it as a "glammed-up version" of Jo Jeeta Wohi Sikandar (1992).
Ramnath felt that Panday showed potential in the "all games and no fun" film. In a more positive review, Ronak Kotecha of The Times of India gave the film three stars out of five, writing that it "doesn't have that Ishq wala love, but there is ample dosti, high school drama and cool stuff to keep you going". Taran Adarsh of Bollywood Hungama praised the sceeenplay for being "praiseworthy as its peppered with some entertaining, dramatic and even moving moments". He wrote, "On the whole, Student of the Year 2 is an entertaining and an enjoyable fare which will strike a chord in the audience's hearts".