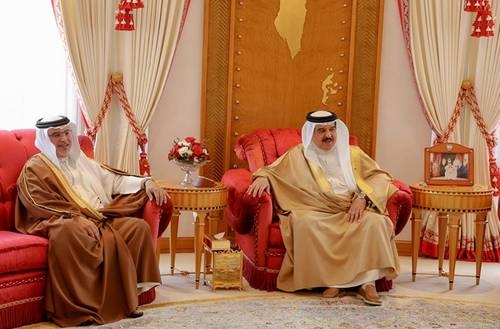 Bahrain King hails HRH Prince Salman's speech at Manama Dialogue emphasising Palestinian rights
TDT | Manama
The Daily Tribune – www.newsofbahrain.com
His Majesty King Hamad bin Isa Al Khalifa commended the speech delivered by His Royal Highness Prince Salman bin Hamad Al Khalifa, the Crown Prince and Prime Minister of Bahrain, at the opening of the 19th edition of the Manama Dialogue, in which HRH emphasised that lasting peace will only be secured through a two-state solution that enshrines the rights of the Palestinian people.
The speech also asserted that the hopes and aspirations of the Palestinian people must be at the centre of post-crisis governance in Gaza. HM the King was speaking as he received HRH Prince Salman.
His Highness Shaikh Abdullah bin Hamad Al Khalifa, Personal Representative of HM the King, HE Shaikh Khalid bin Ahmed Al Khalifa, Minister of the Royal Court, HE Shaikh Salman bin Khalifa Al Khalifa, Minister of Finance and National Economy, and HE Dr. Mohammed bin Mubarak Bin Daina, Minister of Oil and Environment and Special Envoy for Climate Affairs, were present at the meeting.
The meeting reviewed topics related to strengthening Bahrain's development process and the major projects and plans it includes in various sectors. HM King Hamad praised the efforts of HRH the Crown Prince and Prime Minister in driving Bahrain's development process; consolidating the kingdom's progress, competitiveness, and advanced rankings in development indicators; and leading the government's action towards more achievements, initiatives and programmes to develop services offered to citizens and residents.
His Majesty praised the role and ongoing efforts of the Royal Humanitarian Foundation (RHF) in providing urgent humanitarian aid to Palestinians in the Gaza Strip. He thanked all those involved in this noble effort, which embodies Bahrain's firm stance on providing support during various circumstances.
Regional security and stability
HM the King reiterated the importance of ensuring security and stability in the region, affirming that the international community must work towards securing just and comprehensive peace, as a strategic option and the only path to security and stability for the people of the region and the world.
His Majesty emphasised the firm position of the Kingdom on resolving disputes peacefully. HM King Gamad also praised the Kingdom's successful efforts in organising and hosting specialised international exhibitions, conferences and sporting events. This includes the 19th edition of the Manama Dialogue, and a number of international trade exhibitions, as well as the fifth edition of the Bahrain International Trophy.