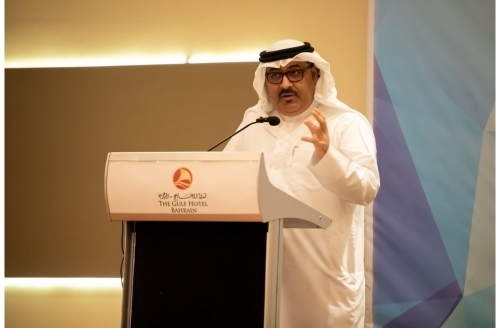 Empowering society and driving economic progress
TDT | Manama
The Daily Tribune – www.newsofbahrain.com
The Kingdom of Bahrain continues to prioritise the advancement of its educational system, recognising education as a fundamental pillar of social development and economic growth.
This was emphasised by Education Minister Dr. Mohammed bin Mubarak Juma as he attended the Rotary Club of Manama's weekly meeting held at the Gulf Hotel's Awal Hall.
Dr. Juma delivered a speech to shed light on the educational strategy being implemented by the Ministry for the next stage.
He presented the Ministry's new strategic plan for the period from 2023-2026 as he highlighted the support received from His Majesty King Hamad bin Isa Al Khalifa and the government led by His Royal Highness Prince Salman bin Hamad Al Khalifa, the Crown Prince and Prime Minister.
Dr. Juma emphasised its key initiatives aimed at enhancing the quality of education, improving educational institutions' performance, and reviewing and developing curricula and teaching methods.
The plan consists of four main parts: quality education, increased efficiency of human resources, improved administrative services, and the development of educational and digital infrastructure. His Excellency emphasised the alignment of this plan with the government's objectives.
The event was attended by officials from the Ministry and the Higher Education Council, as well as Mrs. Renuka Nambiar, President of the Club, and Engineer Mazen Al-Omran, Governor.
Former Rotarians, club members, and individuals interested in educational affairs in the Kingdom were also present. During the meeting, the Minister expressed gratitude to the Rotary Club of Manama for hosting him and for their commitment to addressing important educational issues.
He provided an overview of the Kingdom's journey in formal education, which has evolved over a century. Following his speech, the Minister engaged in a discussion symposium, answering questions and addressing inquiries from the attendees.
He also attentively listened to their comments. At the conclusion of the symposium, the club's management honoured Dr. Juma for his valuable contributions.